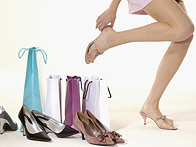 Do your knees touch when you walk? Is there a gap between them when you're standing? If so, just as with fatty or skinny legs, all you need is to choose your wardrobe carefully. Choosing clothes depends on the shortcoming you'd like to disguise. Whatever your case is, it is crucial to choose the right length for your skirt or dress.
What to Wear with Legs Bent Outward
If your legs bend outward slightly, mid-calf length skirt is the best option while straight knee length skirt is the worst. You can also pick flared skirts, gode skirts and wide pants.
It's not a good idea to wear capris, breeches and Bermuda shorts with legs bent outward.
What to Wear with Legs Bent Inward
If your legs bend inward slightly, what you need is straight or flowy pants and mid-calf length skirts. If you want to put a shorter skirt on, like just-below-knee length skirt, go with dark colors and choose pantyhose in matching hues.
With legs bent inward you don't want bell-bottom jeans as well as stretch jeans and pants, leggings or any other short pants.
Don'ts for Bent Legs
It goes without saying you should avoid mini and tight skirts, especially stretch jeans and vertical stripe pantyhose.
Shoes and High Heels with Bent Legs
As a general rule, high heel shoes and flat sole shoes accentuate the shortcoming. So you'd better choose medium heel shoes, if you have bent legs.