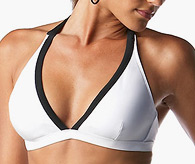 In summer many of us go on vacations to enjoy the sea, get some new impressions, sunbathe and, of course, relax and forget the everyday problems. Before going to the seashore you need to choose a proper swimsuit which makes you look beautiful and feel comfortable. Today you'll learn how to choose a swimsuit, if you are a petit woman with large breasts or if you have small breasts.
How to Choose a Swimsuit for Petite Women with Large Breast
If you have large breasts, but you are a petite woman, in order to keep the impression of balance of your figure, avoid swimsuits made of thin non-elastic fabric with thin shoulder straps, with bra cups without bones, and light colors in the upper part of your swimsuit. You should give preference to a swimsuit with bra cups with bones and by all means with shoulder straps; this kind of swimsuit provides the maximum support for your breasts.
How to Correct the Figure Disproportions with Swimsuit
Wrap over styled swimsuits look wonderful on petite women. They create a diagonal line on the chest and thus divert attention to the lower part. The color theme for your swimsuit is: dark top and light colored bottom with patterns. To correct your figure choose a swimsuit with dark top and light bottom with vertical strips. Dark top will visually reduce the size of your breasts, and vertical strips will make the width of your thighs and waist less evident. It is better to tight pareo very low on your thighs.
How to Choose a Swimsuit for Women with Small Breasts
If you have small breasts, in your selection of a swimsuit give your preference to:
a swimsuit with bra cups with bones or with thickened cups
a swimsuit with a bra without bra straps (basque)
a swimsuit with a bra with gathers, pleats and fillets
a swimsuit with a bra with trimmings (for instance, in the middle of the bra a decorative ring, a decorative imitation of a brooch, etc.)
a swimsuit with a cross pattern
a swimsuit of bright colors, darker below the breast line;
Swimsuit Don'ts for Small Breasts
You should avoid dark colors, horizontal lines on your breasts and bras without bones; visually all of it makes your breasts look even smaller. Pareo should be tightened into a big knot on the chest.