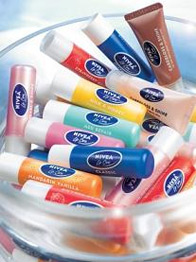 What lip care producers do you prefer? Have you ever heard of Nivea (or Labello, which is the same)? They have a wide range of lipcare, look at the picture. I've recently tried Nivea Cherry Kiss Lip Balm, I've never seen it before. I was visiting my mom, who had bought it some time ago, and she gave it to me saying "You must try it, it smells fantastic". I took the stick, opened and smelled it. It had a wonderful cherry fragrance! Then I applied it on my lips. Unlike usual lipcare sticks, the balm itself looked red, was semi-transparent on the lips and gave my lips a pink tint. I must say, it's not the color I usually wear on my lips, but I wanted to try it anyway.
To Buy or not to Buy Nivea Cherry Kiss Lipstick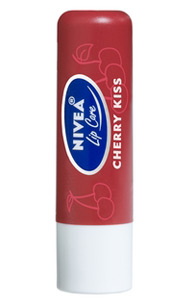 I like cherries, cherry ice-cream, cherry pies, cherry juice very much. This is why after having smelled it I decided to buy it, it was a must. After having chatted with my mom and other relatives for some time I suddenly understood, that I had no cherry balm on my lips anymore. I decided to apply it again. Then again. And then one more time, before I wanted to leave. When I came home, I felt my lips uncomfortably dry, it was even a little bit painful, but I didn't want to blame Nivea Cherry Kiss Lip Balm for it. Today I talked with my mom and said I wanted to buy this lipstick, but she said no way. Reason – it dries the lips and stays really a short time on the lips. Well, I trust her and also remember my dry lips after having applied this cherry lip balm. I decided not to buy it.
Other Nivea Lipcare Product
Now I recall, that some years ago I also had an opportunity to try a Nivea lip care product. It was a lipgloss, which also smelled very good. It was transparent and was produced just to moisturize the lips, make them healthier and look better. I remember very well this experience. It does moisturize the lips and make them look nice for several minutes. But when some time passes after you have applied this lip gloss, it disappeares completely, as if you didn't apply it at all! Moreover, instead of making my lips healthier, this gloss dried them much. And the more I applied this "long lasting moisturistion" (copied from nivea.com) gloss, the drier my lips became. It was an upsetting surprise. Maybe this is why I haven't bought and used any lip care products of Nivea since then. But anyway it's only for you to decide, if you want to buy and use it or not. I just wanted to share with you my own experience and opinion about Nivea lip care products. By the way, yours are also welcome!
For those who also have dry lips, there are ways to moisturize dry lip skin.