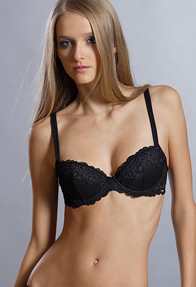 I adore Esprit! I've bought so many garments there. It's easy to find absolutely different kinds of clothes at their stores. A few days ago I had the imprudence to visit one. There were many things on the shelves I would like to have in my wardrobe. And some of them for a discount price. I really wasn't intending to buy anything, I was just watching, what's new, what's nice. Then I saw the underwear section and spent there about half an hour trying on different bras. I just told the shop assistant my size, chose one bra and went to try it on, after which she brought me about a dozen bras of my size to the fitting room. All of them were beautiful and, what surprised me a lot, most of them were sitting very well.
3 Bras Purchased
I chose 6 I liked most and it was a really big problem to convince myself not to buy them all. Finally I decided to buy only three bras and returned the shop assistant the rest. The prices for each of the these bras were from $28 to $37. So, Esprit prices were also a pleasant surprise. Today I'll show you only one from the "Feel Phenomenal" line. It's beautiful and comfortable, it's also possible to cross the straps over at the back or wear them parallel. Look at the picture with the black bra – it's now mine. Envy!
White ESPRIT Bra
By the way, there was a white variant, too, look below. But I liked the black one a tiny bit more. What do you think?