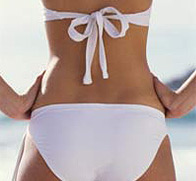 Summer is a time to have fun, go on vacations to the seaside or lakeside, enjoy life, but for many women it also means certain problems. For them the summer season is dreadful, as they find their figures far from ideal, while they need to wear swimsuit so often. Regardless of what shortcomings your body has, if you choose the right swimsuit, you will look great on the beach. Let's learn some rules of choosing a swimsuit.
Swimsuit for Women with Broad Shoulders
If you have rather broad shoulders you should avoid high neck cuts. Swimsuits with bra cups with bones and V-shaped or round neck cuts are perfect for you. Those styles help narrow the shoulders visually. Pareo can be tied up on the neck like a collar.
Swimsuit for Women with Narrow and Sloping Shoulders
If you have narrow and sloping shoulders, then you should avoid swimsuits with deep V-shaped cuts, as well as longitudinal lines in the upper area of the swimsuit. To solve this problem and visually balance out the lower part of the body with the upper one you should buy a swimsuit with the shoulder straps wide-apart and high neck cut. At the same time pay attention to the colours as well. The best option is when the upper section of the swimsuit is light-coloured while the lower part is darker and single-coloured. Pareo is preferably tied on the left or on the right side under the armpits; this way you will visually broaden the shoulders.
Swimsuit for Tall Women
Tallness is usually something to be proud of. Bikini swimsuits with the shoulder straps wide-apart, bras without shoulder straps – bando, and shorts for trunks. Tie the pareo on the waist or hips line to divide the figure into two areas visually. Go for sandals with wide straps. There is no need to fear contrasting colours and pattern-rich edges. Bikini swimsuit will look great even on a tall plump woman. Look for swimsuits with diagonal or longitudinal pattern. Shorts-trunks will be a treat for the eye on a tall woman with long legs and elongated chest.
Swimsuit for Women with Short Legs
If you have short legs, you can make them look longer with the help of swimsuits with high cuts on the thighs (however, if you have plump thighs, you should avoid such swimsuits otherwise they will attract attention to the "heavy" bottom). Whole-cut swimsuits with vertical lines which come to the chest line will suit you well. Avoid: swimsuits with very low cuts on the thighs and with shorts (they visually make your legs look shorter), avoid bikinis and very tight bikini panties (they will also shorten your height and widen your plumpness). Mini-pareo or pareo with vertical patterns that reach ankles will suit you ideally. Avoid pareo with expanding edges; it will visually make you look shorter. To look taller you can tight pareo in a collar on your neck.
Swimsuit for Women with Short Waist
One-piece swimsuits with vertical details (lines, images, stitches, button lines, etc.) that will visually elongate the torso area and with bra cups with bones to bring the breasts up as far as possible above the waist line are great for those of you with short waist. One-piece swimsuit with sharply standing out longitudinal inserts will elongate short-waist figure. A great choice is a swimsuit with combined many-coloured vertical lines. Avoid bikinis (those swimsuits only accent on the disproportions in one's body), swimsuits which emphasize the waist line (especially with ones with belts and vertical details on the waist line). Pareo with longitudinal print will suit you. Pareo will elongate the torso when it is tied up under the armpits on the left or on the right.
You can also learn how to choose the right swimsuit for women with small and large breast and for plus size women.