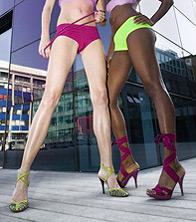 There are so many girls with long legs out there. You can see them on TV. They appear on magazine covers. You meet them at parties. Some girls have all the luck. Both men and women think long legs are sexy. With this insight, the longer legs, the better, though they could make a girl look like a heron. Long legs are a woman's pride. But what if long legs are something you can only dream of? Don't get frustrated and learn how to turn disadvantages into advantages with the help of the right clothes.
Wearing High Heels with Short Legs
If you have short legs, use any of these good old tricks. You need to wear medium or high heel shoes with just about any clothes, long pants for example. What will make you look taller is a skirt (dress, sundress), pantyhose and shoes (boots) of the same color. You can also go with dark color pantyhose.
Wear Tips for Short Legs
It is not a good idea to wear cuffed pants, short loose skirts, tulip skirts (especially those with just-above-knee length) and flat sole shoes. Even if you aren't enthusiastic about high heel shoes, 1.5-2 inches is a must.
Wearing Jeans with Short Legs
With short legs, it is totally taboo to wear low-rise jeans that seemed to come into fashion for good.