An overweight woman should have a swimsuit that fits her figure but in no way a tight one, especially if she is also petite. Probably, you should buy a swimsuit that is one size larger than your regular dress size. An overweight woman looks better in a one-piece swimsuit of deep subdued colors made with lusterless fiber. A middle length cut on thighs is preferred. An insert that drags away the belly, will work like a corset and will shape the waist. Bar cups with bones and high content of lycra (however, the fiber should not be lustrous) are necessary. Look for a swimsuit with lots of vertical details (patterns, seams), wide shoulder straps and quite a low décolleté.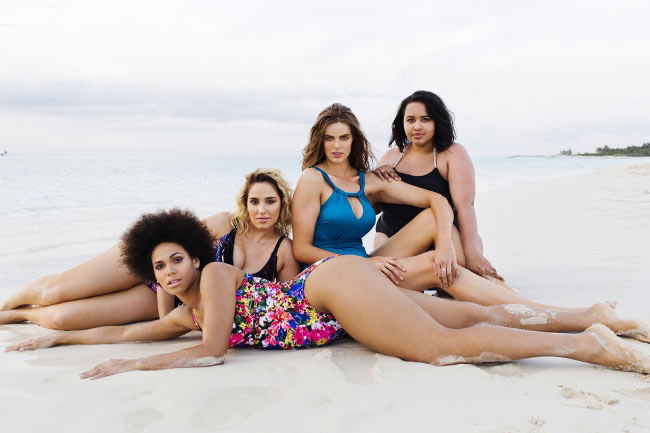 Swimwear Don'ts for Overweight Women
Avoid bikini swimsuits, narrow shoulder straps, and light lustrous fibers, very low or very high cuts on thighs, swimsuits with very high neck cuts, and swimsuits with bra cups without bones and without vertical patterns. Beach clothes – a light shirt, tunic, and light beach trousers.
If you have excess weight, a wide sunhat would help to balance your figure.
Swimsuit for Women with Short Neck or Double Chin
If you have a short neck or a double chin, you should avoid swimsuits with high neck cuts. Such models attract attention to the annoying part of the body. You should better choose a swimsuit with a deep V-shaped cut or without shoulder straps (if your breasts are not very large).
If you have a short neck or a double chin, your pareo should be tied either on the chest or on the waist but not on the neck.
Swimwear for Women with Plump Arms
Plump arms surely can not be hidden when you wear a swimsuit but you can distract the attention from the arms and shift it to the chest area. Choose a swimsuit richly decorated with details or a print on the chest. You can also get a light, transparent blouse or one that matches the colour of the swimsuit with a 3∕4 sleeve length.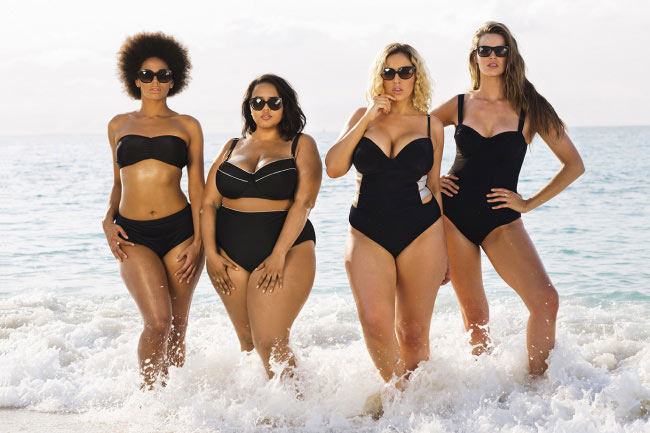 Swimsuit for Women with Wide Hips
If you have wide hips, you should avoid light-coloured, shiny fabric, belts-straps, and transversal print in the lower area of the swimsuit. Be careful not to put extra emphasis on the waist. A one-piece swimsuit with inserts that tighten the belly will suit you. A good choice is a swimsuit with bright top (colour, print) and smooth bottom or with a vertical print, preferably with the shoulder straps wide-apart.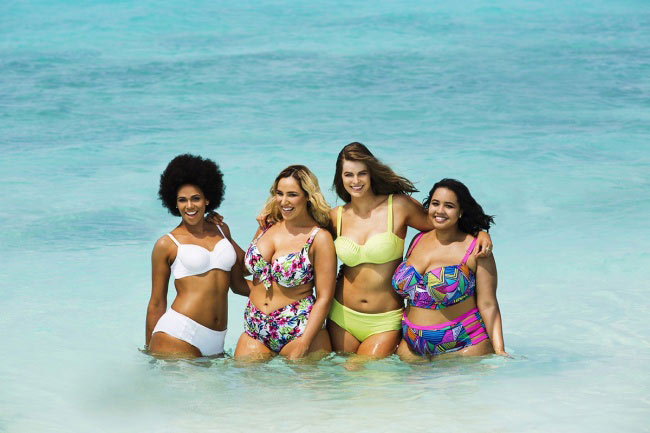 Diagonal stripes converging on the belly or the hips will make you look slimmer.
A swimsuit with a skirt will suit you as well (stay away from such swimsuits if you have narrow shoulders). If you have wide hips or a potbelly tie the pareo inclined on the waist, do not tie it horizontally.