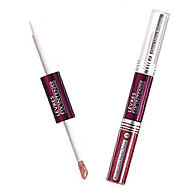 I have already told you about my new discovery – Velvet Mousse Eye Shadow by Yves Rocher. It is great, I enjoy it every day since I bought this eye shadow. I'm wearing it today and feel and look good. But I also enjoy the long lasting lipstick, which I bought at the same beauty store. It is called Levres Fix'Intense and is double-sided. This lipstick is also produced by Yves Rocher. It consists of lipstick of the color you choose and the transparent lipgloss, each one with its own brush.
Double-Sided Lipstick
So, why is it double-sided? The first side with the tone gives your lips the long lasting color. The tone I chose is Brun 02. The second one, with the lipgloss, makes your lips shine. If your lips are thin and you want them to appear thicker, this is exactly what you need. At the same time, the lipgloss prevents the lipstick from vanishing. I can compare it only to Chanel lipstick, which is so superstay, that it was still on my lips even after a long dinner with a lot of drinks. The only thing I didn't like in that Chanel lipstick was the fact that it dried the lips. That's why I don't use it anymore. But I use this lipstick-gloss, because it stays rather long and doesn't dry the lips.
How to Use Levres Fix'Intense Lipstick and Lipgloss
There are particular, but very simple rules of using this lipstick. First apply the lipstick, leave it to dry for 1 minute and then apply the gloss over it. If you want to remove it, use a cleansing oil or your usual makeup remover. Besides the fact that your lips sparkle and look thicker with this lipstick, it lasts long. I wouldn't say, it stays the same for 10 hours, like the producer writes on the package, well, maybe it does, if you do nothing during this time – don't speak, don't eat and drink, don't kiss. From my own experience it lasts about 3 hours, but active hours. If you apply the gloss from time to time, it stays longer than this time. I would recommend you this lipstick, because I enjoy it myself – it looks beautiful on my lips, even smells very good and draws others' attention to my lips.