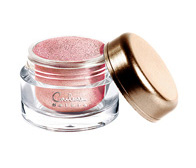 I would like to share with you something new in makeup, which I discovered yesterday. I went to Yves Rocher store to buy a lipstick I wanted, but the lipstick wasn't the only one thing I bought there. When I'm at a beauty store, I'm totally weak-willed, I recognize. I will tell you about the lipstick later, it is also worth it. What I found there is mousse eye shadow "Velvet Mousse". This is a sensation!
Yves Rocher Mousse Eye Shadow Lasts 8 Hours Indeed!
Yves Rocher guarantees, that this mousse eye shadow will last 8 hours. I checked it and I can say for sure – it really does! I applied my usual makeup and this mousse shadow at noontime, then did some chores and went to play badminton. The game was intense and lasted 3 hours, and I also spent time for the way there and back. When I came home around 10 pm, I looked at myself in the mirror. The shadow looked exactly the same as it did when I had just applied it. Can you imagine it? After all the activities, blinks and snowstorm outside it still was there and looked excellent. I would also say, it's waterproof, until you rub the eyes with fingers. But I used my usual eye makeup remover to wash it off, the same one I usually use to remove my mascara.
Why I Like Mousse Eye Shadow by Yves Rocher
I really like the way it looks on my eyelids. To be honest, I looked in the mirror again and again to check how it looked and to enjoy the new color. I bought "02 Perle argent" color, but there are three more colors of this eye shadow. It can be applied with a finger or a brush. It is told to be "highly iridescent" – and this is the best description. I doesn't look vulgar, like some other sparkling eye shadows, it shines gently on the eyelids, freshens the face. Once applied, this mousse eye shadow will never appear on your lashes, like dry eye shadows do, it will only stay on your lids – exactly where it was applied. And this is the best quality of eye shadow, I think.