Kourtney Kardashian, the eldest daughter of the family (30) and the star of Keeping Up With Kardashians, sounds quite happy describing to the People the way her physique is changing in anticipation of her first child due around Christmastime.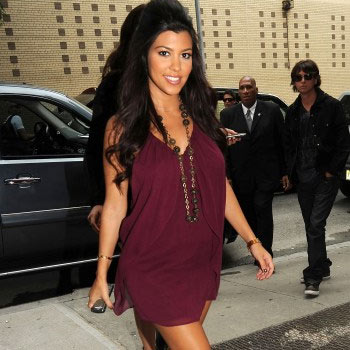 "My boobs got huge right away," she relates, clearly delighted with her enhanced appearance. "They got so sore, that if anyone even brushed up near me, I would scream."
She also put on additional 10 pounds. But she thinks it's not a reason for worrying.
"I'm really embracing it," says Kourtney. "I feel like it's such a beautiful thing, that every woman who goes though it, should embrace it. I think if you're naturally skinny, and pregnant, and that's how your body is, that's fine."
Yet it doesn't mean that the reality TV star is letting herself go. She's not the one to throw dieting to the winds. "I want to do what's healthy for my baby," she says.
Kourtney Kardashian is living with the child's father, entrepreneur Scott Disick, in Los Angeles.
Source of the image: sheknows.com
.