The news of the longest wedding gown worn in Romania in April was sure to inspire some people into attempts at emulation, but the one most inspired was Zhao Peng, a groom from Jilin Province in China.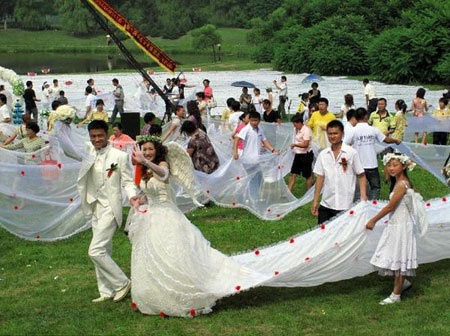 The Xinhua agency reports that the gown he had his bride wear on their great day was 2.162 meters long and certainly qualifies for the new longest wedding gown so far.
First the redoubtable Zhao had to suppress the opposition from his family because his mother claimed it was sheer financial wantonness. Then he obtained the material and roped in his relatives for some handiwork that lasted for three months.
The dress was publicly displayed on August 1, the procedure that took the better part of three hours with guests helping. Finally the rolled-out dress, adorned by 9,999 silk roses, was measured in the presence of TV, radio and newspaper journalists (13 Chinese newspapers sent their representatives).
The wedding dress of his dreams put him back 40,000 yuan ($5,856).
Source of the image: luxuo.com.