The 31-year-old reality star Kim Kardashian has an army of Twitter followers of around 15 million, and they have an almost daily inflow of evidence of how gorgeous her body is, often clad very scantily – which she can certainly allow.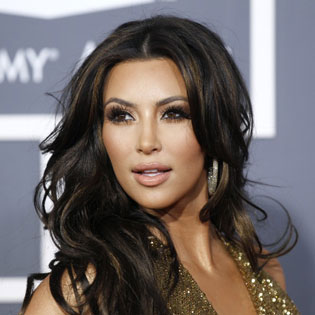 Kim Kardashian's looks have brought her fame and money, but just how much do they cost her? A lot, both in terms of money and time. Actually, the figure comes up to a whooping £66,000, or about $100,000 every year! Add to it heaps of free stuff that is sent to her for endorsing numerous beauty products – Illumifill make-up, OPI polish, QuickTrim diet supplement and the like.
The Heat magazine reveals that every month of Kim Kardashian's life involves from 150 to 200 hours of working on her appearance with regular application of treatments like 24-carat gold facials, weekly eyelash appointments, and tequila body scrubs that total up to £5,500's worth.
Besides, recently Kardashian owned up in a conversation with Oprah Winfrey that she had her body lasered in all the necessary places.
Of course that is not all it takes to be Kim by far – her curvaceous figure of 8.5 stone is the result of daily sweaty work in the gym. Even when she was on holiday in Hawaii with her boyfriend Kanye West she didn't let fun make a pause in her workouts.
And now for a more detailed insight into Kim Kardashian's looks.
Kim's Face Beauty Secrets
Twice a month KK has facials at Bailey's in Beverly Hills (worth £800) and once a month it's a 24-carat gold UMO facial. Anti-ageing glycolic face peels are done every 4 days.
Permanent eyelash extensions is one of Kim's signatures and she has them fixed and topped up every week.
Her peachy complexion is maintained through Fraxel cosmetic laser treatment, for which she stumps up £2000 every time.
How Does Kim Kardashian Maintains Her Body in Shape?
To keep her body trim Kim never misses her spa at the five star Four Seasons hotel where she goes twice a month. Usually she goes for tequila-based body scrubs with tangerine and sunflower oil (worth £110). Also included is a detoxifying mud wrap that gets rid of any possible skin blemishes.
A massage and nail care are done every day for about an hour. A Bevery Hills Nail Design session costs her £95.
Some parts of her body have been treated to laser cellulite removal.
Kardashian's Hair Care Tips
Kim's sew-in weft extensions are taken care of by celebrity stylist Philip Wolff (Shades, Beverly Hills, £500 charged for each styling session). Her work is augmented by additional at-home treatment for about an hour.
Kim's Workout Preferences
Kim Kardashian's trainer Gunnar Peterson speaks of her as a hard and diligent worker who can fix her workout as early as 6 am if she has no other time and can go to the gym straight from the airport.
Kim's Diet Secrets
Kim is an ardent believer in the "sex diet" that, according to her, helped her get rid of seven pounds in the same number of days. Her meals exclude gluten, sugar, and dairy. Her food is delivered to her in special freezer bags.