Hair is something that's important to all of us. It's a way for us to express ourselves in all sorts of ways, no matter what style we go for. Trying to find a trusted salon and stylist can be really hard, though, which is why we're here today.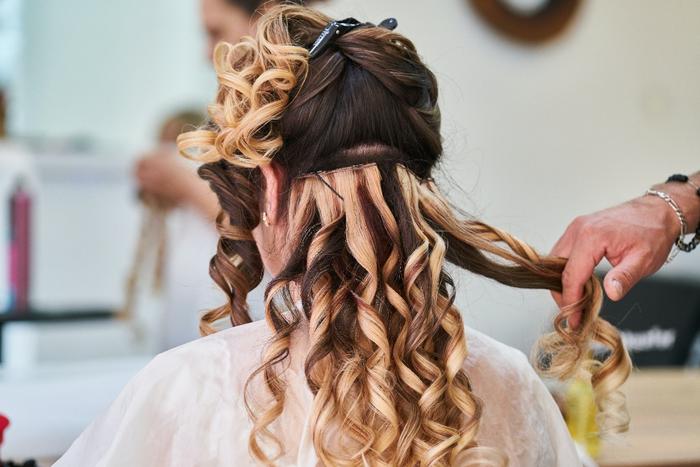 Whether you're in North Carolina or anywhere in the country, there are a ton of options available to us. However, finding the cream of the crop is where the trouble comes in. A lot of the decision process comes down to how close a salon is, the expertise of the stylists, the services that we're looking to get, and the customer service that we're being provided with.
Today, we'd like to help you figure out how to choose the best salon for your needs. Balayage highlights will be the main service we're focusing on, but hopefully, a good stylist that we can trust will be able to perform any technique that we need to be done. Stay tuned to learn more about how we can find one like that!
What are Balayage Highlights?
Our first order of business today is to take a look at what balayage highlights are. The term "balayage" is a French word that basically means to paint or to spread color. So, when we apply it to this context, it means coloring the hair using a more free-form method than you might with foils.
Balayage can be used for highlights, lowlights, ombre styles, baby lights, splash lights, and more – those are just a few examples. What sets it apart from other techniques is that it's freeform rather than super structured. For a long time in the cosmetology industry, it was considered rare and highly specialized.
However, these days, it's much more accessible for us as customers and clients. There are many reasons why it's become so popular. One is that there's no need to use aluminum foil, which means that we're creating a lot less waste. It also means that our styling will be much more personalized to our needs.
What do we mean by that? Well, you can see some examples of results here: https://charlottecutscolor.com/hair-salon-services/balayage/, but the main idea is that you can achieve a subtler and more natural appearance for your hair even if you're making a huge change in color. As your hair grows back, the "regrowth line" will be a lot less noticeable as well.
What Makes a Good Hair Salon?
Now that we've covered the basics of the balayage technique, the next question to consider is what sets a hair salon apart from the rest. What qualities should we be looking for? There is a lot to cover.
Customer Service
Perhaps one of the most obvious things is quality customer service. Thankfully, around here in North Carolina, you're never far from Southern hospitality. If it is something you're worried about, you can always check out some online reviews or ask around to see if anybody you know has opinions on the salons you're considering. Another critical thing to watch for is whether or not the stylists are trained well.
Stylist Training
Admittedly, any salon worth its salt will have properly accredited employees. However, we wanted to point this one out just in case you aren't sure what to look out for. Just like any other state, NC has specific requirements before anyone can qualify for a cosmetology license. These details should be available on any salon or stylists' website.
Cleanliness and Hygiene
Lots of people go in and out of a salon on any given day. The tools that stylists use have to be cleaned between clients. Hair should be swept from the floor between appointments, and any sinks should also be sanitized. This stuff is super important and applies to any business, but especially one like a salon with so much potential for risk if the standards aren't upheld.
Customer Experience
The final thing to look for in a salon that can really set it apart from others is the experience they provide for their clients. Balayage is just one example of many different services that can be provided that allow us to feel really special for a day. When we have our hair done, we just often want to feel good about ourselves for a while.
The general friendliness of our stylists is typically a part of the equation, as you can read more about on this page. Unless you request otherwise, most of the time we'll get to have a nice and engaging conversation as we sit in their chair. It's part of what makes the process so appealing, right?
Unfortunately, it can be tricky to get a gauge for how your experience will be with both a salon and an individual stylist without just sitting down and getting an appointment. Again, though, consider checking out some reviews to see what other clients have to say.
Is Balayage Worth it?
Once you have a salon picked out and you're feeling confident about what you want done to your hair, the final order of business to address is whether or not having this service done is worth it. After all, balayage is a bit pricier than getting foil highlights because it requires more precision and expertise from our stylists.
The truth is that most clients are very satisfied with their balayage highlight, lowlight, ombre, or any other service they get under this umbrella. It lasts longer than a foil job would because the fade lines take longer to show. They also require less maintenance because of that – meaning that even though the up-front cost is a bit higher, you will end up saving money in the long term.
Additionally, because your stylist will be giving you a highly personalized experience with this technique (no matter what salon you go to), you'll get to experience a relaxing and fun day at the salon rather than a stressful or uncomfortable one. The lack of the foils in our hair is icing on the cake.