Everybody knows that jogging is healthy. It provides body weight loss and fat burning, makes your body stronger and enduring, your figure well-set-up and slim, increases muscle bulk and doesn't let cholesterol deposit on vascular walls. But unfortunately it's not always fun, because systematical repetition of the same sport activity can bore one. Boredom brings laziness and you train less. Here are some recommendations to make jogging more exciting.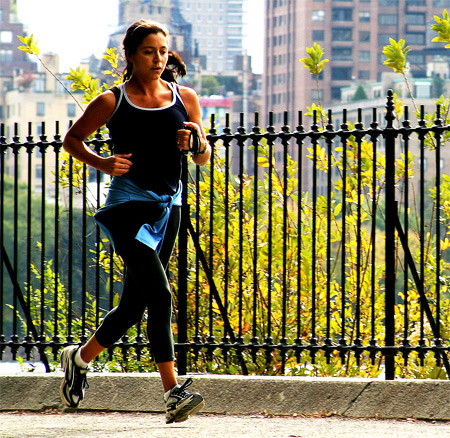 Place for Jogging
First of all, choose different places for jogging. But don't jog near roads, because during training you breathe more intensively and your lungs swallow up all exhaust gases from cars. It's better to jog in a park or forest. Such places are more friendly also because if you are jogging on asphalt, all your body weight returns to your legs as a repulsive force from your every step and damages your joints, as asphalt is too hard to neutralize it. This means "Sore upon sore is mot salve": you loose weight, but damage your joints. The best place for jogging is of course the race track in a green zone.
Take a Jogging Friend
Don't train alone, take a friend, relative or neighbor with you, so that it brings more fun. So that in case you are lazy to train, your partner will force you and you will get the better result together. In case you have a dog, it would be also healthy for it to run a pair kilometers and could be a good reason for you to jog 🙂

How to Breathe Correctly
When jogging you should also pay attention to your breath. The right way is to breathe in every two steps and breathe out the next two steps and so on in cycle. Moreover you should keep this breath method even if you make a pause. And during the pause you should not totally stop – walk with the same rhythm, so that your heart works in the same regime – this is healthy for you. And don't forget to breathe the same way when walking, even if you are having a rest after jogging.
Wear Nice Sportswear
Many women like to wear nice stuff, change clothes, we get enjoyment by combining things. Why not look good by jogging? Visit a sportswear shop and choose yourself what suits you best. Wearing comfortable sportswear you like during training provides a better mood and more energy, if you are sure you look attractive.
Jog with Music
Many producers offer mp3 players for sport activities. Sport with music really improves one's mood and gives more energy for getting a thin and sporty body. When choosing the right sport mp3 player pay attention to the following things:
A sport player should be comfortable: small, light and attachable.
It should also be easy to use, so that you don't have to stop training to switch between tracks and stations.
A sport mp3 player should not impede your training. The best variant would be if you didn't notice it during going in for sport.
Choose the right sport earphones which provide a secure and comfortable fit during sports.
By the way, what you listen to is also important. Upload songs of different styles to your mp3 player for your every mood and tempo. For those who doesn't want to waste time, there's also a genius and at the same time a simple idea to learn foreign languages during jogging. You can upload an audio book or audio language course on your sport mp3 player, then rhythmically burn fat and enjoy the freshness of the forest air simultaneously. So, listen to good music, feel comfortable, wear nice clothes, train with friends, jog with fun and be a genius and sporty beauty.
No workout gear is complete without a pair of extra-durable puma shoes to enhance your workout.
If you're new to jogging, you will need a jogging plan for beginners to start with.
Source of the image: flickr.com/photos/mikebaird, flickr.com/photos/thomashawk.