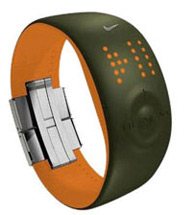 Wristband Nike AMP+, a fashionable unisex digital watch is finally available. Let me tell you about it. First, it shows (what do you think?), what time it is. Secondly, Nike AMP+ lets you wirelessly control your iPod. The uniqueness of this wristwatch ("+") is the fact, that this device also integrates with Apple's wee iPod nano receiver for Nike+ shoes. It allows you to wirelessly track and monitor your runs and progress. While you are jogging, the music is interrupted by a nice voice telling you the clock, the distance and the amount of the calories burnt during your training. Which of the phrases proves best your training has been effective: you have jogged from this tree to that building or you have jogged 1 mile? It's such a nice thing for joggers!
This clock looks like a bracelet and is also water resistant. There are bright orange light-emitting diodes (LEDs) instead of liquid crystal display and clock dial. You can see very well what time it is both on a sunny day and at night. The control buttons are easy to find without looking at the wristwatch, which allows to easily switch tracks, control volume and be informed about time. This wonderful sporty gadget is already available in four colors (blue, green with orange, black with red, or black with graphite) and costs $79.
This device is certainly cool. But there are cons, too. It requires the purchase of Nike + iPod Sport Kit, which brings the total price to an expensive level. The second disadvantage: if you want to resize the band to fit your wrist size, you will have to cut through plastic. Anyway this device is something special, it reminds me of films about how people will live in the remote future. It seems to me, many will find it essential very soon.