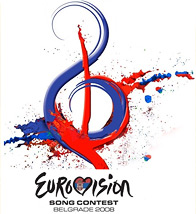 This day was a special day – it the final of Eurovision 2008. The stage was actually a big screen, which made it possible to show any video environment, the songs were beautiful, the dances were dynamic. You surely want to know, who was the winner. It was Dima Bilan from Russia! Congratulation to this country! This time Dima also got a Eurovision prize, for the first time. The second place went to Ani Lorak from Ukraine, the third one – to Kalomira from Greece.
Nico and Vlad from Romania

Vlad sang a very romantic and beautiful song with his tenor. These were very nice voices of professionals. The duet sang in Rumanian. Nico spoilt the performance a bit with her pretty shrill voice, but due to the talent of Vlad the show was very good. I liked it.

Andy Abraham from United Kindom

A bit of latino, a very nice dance. I wonder how Andy was dancing so fast and singing so well at the same time. A very positive impression. As for me, it made me want to dance, really.

Olta Boka from Albania

This was better, than the first show of Olta Boka, but maybe too serious for such an even, where people are waiting for fun. The gestures she made were not understandable, as Albanic is a very unique language, not many people know it.

No Angels from Germany

The girls sang out of tune pretty often, although they looked very good – they were wearing nice dresses. The composition was also nice. "No angels" shouldn't have let to sing such a difficult song. Maybe they were nervous and that was the reason of this quality of singing.

Sirusho from Armenia

The album of Sirusho was named the album of the year in Armenia. She has an extremely beautiful voice. The song contained a piece of exotic. The dancers (three men) created a very cool environment. And Sirusho danced very well, too. It made me want to move, as well as the show of Andy Abraham from England. Only one minus – while singing, she was sometimes screaming, but not singing – I'm sure, this was due to the fact that she was dancing at the same time.

Laka from Bosnia and Herzegovina

Laka used to sing in restaurants before and tried to make a career in the USA. He performed together with his sister Leila. The topic of the show was marriage. I wish I could understand the language. But it was funny anyway. Nice show. Jean Paul Gaultier was one of the commentators of Eurovision (for France) and admired the costumes of the artists from Bosnia and Herzegovina.

Boaz from Israel

He's called a Yemeni nightingale, a cowboy (because he lives in a farm), he is in the Israeli army now. A wonderful voice. He is indeed a nightingale.

Teraesbetoni from Finland

As already said, it was heavy music, the English for Teraesbetoni is ferroconcrete. There's a whole state program supporting metal music in Finland, this is why it's not the first time for this music style to appear at Eurovision. They differ from other artists a lot. As for me, I didn't like the performance.

Kraljevi Ulice and 75 Cents from Croatia

The name of the band "Kraljevi Ulice" means "the King of the street". The band has been existing for more than 20 years. The old man goes in for sports, jogs – he is very active for his age. Exactly because of this he participated in Eurovision 2008.

Isis Gee from Poland

Isis Gee used to work together with jazz musicians. Tthe song sang at Eurovision was devoted to her husband. He must be happy, as his wife is very beautiful, as well as the song. And both belong to him. The song was in English, so most people could understand the words of the song – this was very pleasant. Unfortunately it was not voted on by many countries.

Euroband from Iceland

Both artists participated in Eurovision before, but didn't win. And then they decided to create a band together in 2006. They won many local music contests, participated as back vocalists in a jazz band. The song presented by them this evening was in Modern Talking style. Not so good.

Mor ve Oetesi from Turkey

This was a rock band, which is very popular in Turkey. They sang an anti-war hymn against Iraq war in 2003. It's very unusual and interesting to hear Turkish singing style and Off Spring resembling music, which I like both. Very cool.

Vania Fernandes from Portugal

The song by Vania Fernandes was called "the mistress of the sea". Vania used to win at "Pop Idol" contest. She's now student of conservatory. The song sang at Eurovision is about the seaman, who was waited for by his wife, but didn't manage to come back to her, as the mistress of the sea took him. A nice song, but, as already said, pretty boring. Many were sure, that Vania Fernandes was going to win Eurovision 2008 and were expecting a more interesting performance from her.

Pirates of the Sea from Latvia

The sea topic was continued by Latvia. They are said to be welcomed in all local parties. I'm sorry for those, who invite them. You can read, what I think about their show at Eurovision 2008, in the previous post about the contest.

Charlotte Perrelli from Sweden

Charlotte Perrelli is considered the most attractive woman of Sweden. She participated in musicle "Jesus Christ Superstar", 9 years ago she also participated in Eurovision. At the beginning of the show she was singing in the blue light, which made her face appear as a typical bodybuilder's face (man-like, muscular), I even thought, my TV-Set broke down. The eye makeup enhanced this effect. It was horrible. As for the song – the same opinion, as in the previous post about Eurovision.

Simon Mathew from Denmark

Simon Mathew was born in a priest family. He participated in many music contests and finally won in contest "Find a Star". Simon is going to enter the Danish police academy. He had no education after school, even no music education. He even gave up the music class after 3 months. But the performance was great.

Diana Gurtskaya from Georgia

Diana was 10, when she sang on the stage for the first time. She studied at music college in Moscow and is pretty well known in Russia The song she was singing is called "Piece will come". Nice.

Ani Lorak from Ukraine

Ani Lorak is a honored Artist of Ukraine. She was remarked as the best singer of Ukraine. The song she sang was named "Shady lady". It was very hard for her to sing and dance at the same time – this spoilt the quality of singing. But the show was colorful. Pretty nice. But too much pop.

Sebastien Tellier from France

Sebastien Tellier comes from music underground. This song is played in "Lost in Translation". He acted the main part in two films. During this performance everybody had a beard, even the girl in the back vocals. Funny. Pretty dynamic. Very unusual. He sang in English and French. Not bad.

Elnur and Samir from Azerbajan

This song portrayed the dialogue of angel and devil, as both of them live in the soul of each of us. One of the duet sang mezzo soprano at first – it made me laugh. He was too "masculine" looking to take those too high tones. I must say, the angel sang better, than the devil. But the devil turned into angel in the end. But how long will he be "good"?

Kalomira from Greece

Kalomira won one of the popular music contests in Greece. Her voice resembles that of Kylie Minogue. The show was as good as the first one. The way she moved and sang resembled the American style. Already said, very positive.

Rodolfo Chikilicuatre from Spain

Rodolfo Chikilicuatre sang a funny song named "Chiki-chiki" – everybody dances in the text of this song, even politicians. It was a very funny show, even crazy. The motive is very easy to remember. He didn't show a great vocal, as during the entire performance he was speaking, but not singing. I wouldn't like to hear it again.

Jelena Tomasevic and Bora Dugic from Serbia

Jelena Tomasevic is 23 year old, she normally sings folklore music. the host of Eurovision Final Joksimovich composed this song for her. Quite boring for such an event, but she has a good voice.

Dima Bilan from Russia

The same Edvin Martin with his violin, the same Evgeny Pluschenko with his mini dance and the same Dima Bilan with his boring song. The environment looked as if it were gas burning blue under the stage. A good symbol of the Power of Russia rich in natural resources 🙂 though Dima was barefooted during this performance. Due to the fact that there're lots of Russian emigrants in other countries (as well as other factors), Dima won.

Maria from Norway

Maria participated in many music contests. The song is called "Hold on be strong". She sang out of tune pretty often. No the best performance to be the last one. Simple dance, simple song, simple costumes – everything banal.
As for my preferences in music, I would name the five best of the Eurovision 2008 night the following way:
Mor ve Oetesi from Turkey,
Isis Gee from Poland,
Simon Mathew from Denmark,
Boaz from Israel,
Kalomira from Greece.
By the way, if you would like to watch all the shows presented at Eurovision 2008, you may visit eurovision.tv and find there all the videos from the final, first and second semifinals.