Manicured hands with beautiful nails are the continuation of each woman's natural beauty. And trendy colors only accentuate attractiveness. But very often one can see the nail polish become yellow. What causes the process and how to fix it?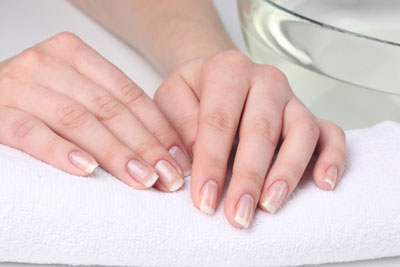 The typical bright yellow color originates from violating the technology of the manicure when the nail polish is applied directly onto the nail plate rather than on the base. Our nails are covered with an invisible thin layer of fat which protects them from the aggressive influence of the external environment, whether these are nail polish pigments, household chemicals, or solid surfaces.
Very often, the nails become yellow after being exposed to the so-called "big three" of toluene, formaldehyde and dibutyl phthalate. These components are contained in low-quality decorative nail polishes. And during the summer period these factors are complemented by UV rays which affect the nails as destructively as they affect the skin. It is just that we protect our skin with special means and forget about the manicure.
If you have found that you have similar symptoms, what should you do? To restore the natural pale pink color of your nails, you need to gently remove the upper layer with a professional nail polishing file.
Before the procedure, it would be useful to have a nail bath of lemon juice. However, the fingers should not be kept there for a long time since fruit acids are rather aggressive. And, of course, it is necessary to make a rule of applying a base for manicure and use the products which protect from UV rays.
Source of the image: Photl.