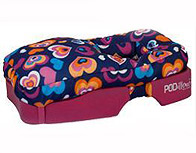 Sunbathing is quite easy when you're lying on your back, but once you turn face down, there occurs a problem – where should you lay your head down? How many times did you leave the beach with some sand in your hair or, what's even worse, with the lines on your face got from your own towel? The inventors of miracle-gadgets know, how to solve this problem.
PODillow Provides Comfortable Facedown Tanning
They have created a gadget that is going to make tanning on the beach really comfortable – the beach pillow PODillow. It may look a bit funny, but it should be really comfortable. Plus, this pillow also has a great function – you can locate your stuff, such as mp3 player or mobile phone, in it. It consists of two parts – the upper one is soft, it's for your face lying on it, and the lower part is actually a storage pocket with two sections, where you can leave your mobile phone and wallet. So, now you do not need to stand up every five minutes to check, if your bag is still where you left it.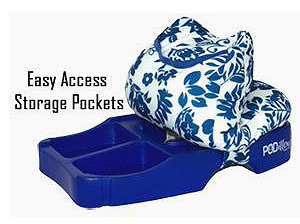 What's Insight and Outside PODillow?
The upper pillow part is filled with polystyrene microbeads, it's flexible, and you can easily mold the pillow for that custom fit, but at the same time it should support the head well. This soft part of PODillow can be removed and washed in the washing machine. The bottom portion is made of the material similar to a usual coolie cup – soft and pliable foam. But it is stiff enough to provide you with enough fresh Oxygen through the side air-channels. The tanning pillow is sold in several colors with flower prints, not a large range of colors, but enough to combine with your swimsuit.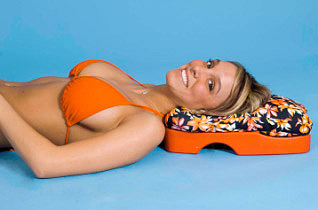 Pack the PODillow in the Bag
The tanning pillow also has a nice backpack carry bag to be brought to the beach in. I haven't tried it myself, but I really believe, this is something I need on the beach.