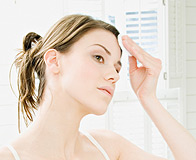 Just in 10 minutes you can remove and hide the defects in the way you look so that the traces of your age or the traces of the last night's wing-ding will not be noticeable. How? You will need some mere means such as cold compress, eye cream containing retinol or any other derivatives of vitamin A, camouflage stick, eyeliner, and eye shadows.
Cool Compress to Remove Bags under Eyes
Cool compress will help you remove the swelling and reduce the blue colour around your eyes. The latter appears under the action of the sun and incorrect liquid distribution.
Retinol Containing Eye Cream
Eye cream containing retinol will give elasticity to the skin around your eyes and reduce the wrinkles since it stimulates collagen production and development of new cells.
Camouflage Eye Circles with a Stick
Camouflage stick, if the tone is correctly chosen – peach or yellowish undertint – will help you hide the blue colour under your eyes. The main condition here is that the stick should not be lighter than the skin itself since otherwise the stick will only make you look 5 years older. The texture of the stick is also important. It should not be sticky and the stick's trace should not have gaps or break easily.
Eyeliner and Eyeshadow
Eyeliner will make your eyes look more expressive while smooth and cream-textured eye shadows which match the skin shade applied at the brows' contour will help you attract attention to your eyes and make them look bigger.