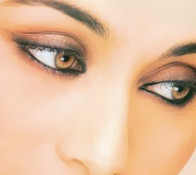 These days using eyeliners in the daily eye makeup has become very popular – even Hollywood stars do this. Eyes extended to the temples give a woman authoritative and mysterious look. Ideal liner is liquid, in a tube or a bottle. When using the liner you will need light arm movements, but once you master the skill, you will simply not be able to live without it. To learn how to apply eyeliner, use the following tips.
Step 1. Apply Dark Shadows
Apply some black or dark-blue eye shadows along the eyelid line, concentrating mainly on the eye corners. A newbie can make a "rough line" with some powder.
Step 2. Draw the Line
First of all make sure the liner brush does not contain clots of dried dye or some hair. Pull the eyelid with the left hand towards the temple. Make a thin line starting from the outer corner. You can always add some thickness to the line depending on the image you wish to achieve.
Makeup artists use napkin edge as improvised ruler.
Step 3. The Cat's Eyes Line
If you want to extend the line beyond eyelid bounds, for example, if you want to create the "cat's eyes" effect, make sure to have some backup. Apply some crumby powder on a sponge or brush and make a line along imaginary liner line. Furthermore, apply the liner along this line; once you are done – brush the left-behind powder with a brush.
You should not extend the line over half centimetre beyond the eye corner since excessive usage of the liner will create theatrical look.
Step 4. Complete the Image with Mascara
To complete the image apply mascara which boosts the eyelashes volume; make sure to apply two layers on eyelashes in the outer eye corner to accent on the lines more.