Just recently, Gresso, the cell phone brand known for its luxurious designs in cell phones, has unveiled a new red handset model called the Gresso Lady Diamond.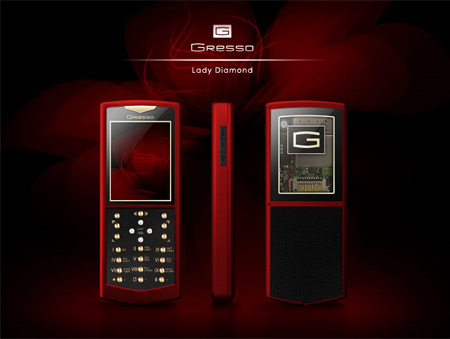 The case of this phone is made with sturdy Titanium and is decorated with Magenta Diamond ceramic paint. The navigation keys are pure gold coupled with 4 white 0.44 carats diamonds! The rest of the keys in this lavish phone is also made of gold while the numbers on them are in roman numerals.
The rear of the phone is made of sapphire crystal; so is the display, showing off 42 carat sapphire glass. Stainless steel and genuine leather has also been used to make the Gresso Lady Diamond.
This magnificent cell phone costs $5,500 and is currently only available in limited edition. The phone comes with Windows Mobile 6 standard OS, 2 GB internal memory, Internet applications, GPRS, Bluetooth, miniUSB port, voice recorder, multimedia player, and even a 2 mega pixels digital camera.
Source of the image: ladiesgadgets.com.