It's a bit early in the day to begin actually decorating your home with Christmas paraphernalia, but not too early to turn a blind eye on Christmas-targeted themes, adverts and news. Or maybe Hammacher decided to make it first, unveiling its World's Best Prelit Noble Fir.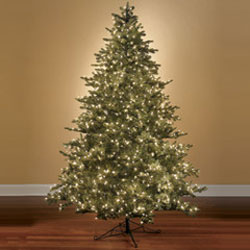 It's up to you to decide whether the name sounds high-falutin' or justified, but Hammacher made quite an attempt to make it worthy of the moniker. It is announced to be the most realistic in the world in its sphere, being molded along the lines of an Abies procera. Another unique feature is three-dimensional branches with natural growth patterns, realistic-looking needles and other details aimed at near-perfect verisimilitude. The tree stands 7.5" and sports 4,400 branch tips, which makes it almost twice as thick as the average fir. The branches are hand-painted.
The festive spirit is furnished by bright illumination that is claimed to be good for 16,000 hours. There is an integrated circuit installed in each bulb that will keep it on even if its fellow bulbs develop a fatal electric problem (or some young adventurer gets at them).
This holiday symbol will set you back $199.95, which is not so exorbitant if it's really world best.
Source of the image: Hammacher.