Touche Eclat by Yves Saint Laurent makeup product can be safely called a cult. Celebrities use it, makeup artists of the stars and stylists love it, and female beauty-bloggers from around the world never stop writing about it.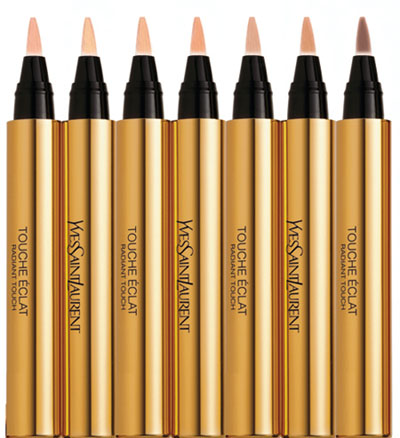 To commemorate the 20th anniversary of Touche Eclat, the Yves Saint Laurent> brand has released a special holiday edition of a concealer.
Fred Letailleur, makeup artist of the North-European Bureau of Yves Saint Laurent, presented the fans of the brand with 20 tips for using Touche Eclat in honor of its 20th anniversary:
Around the eyes to hide imperfections.
At the inner corner of eye to make the eyes seem not too close to the nose when using saturated eye makeup.
For matte shadows – mix the eye shadows with Touche Eclat on the back of your hand.
Shade number 3 neutralizes blue.
Use it as a primer for the eye shadows.
In the inner corners of eyes – to hide weariness and to brighten the white of the eye.
Shade number 6 is used as a warm shade of suntan on the cheeks.
Use sharpened brushes for especially precise application of Touche Eclat.
Use it on the nose, on the protruding parts of your cheeks and chin – for creating face makeup, and as a highlighter.
Dark colors (such as the number 5) are used to correct the face. Applying them under the cheekbones will make the face thinner.
Apply the product with your fingers and a brush for blush.
Press the Touche Eclat three times, apply drops on the skin, and then spread them with a cotton swab.
Apply it under the brows to visually separate the eyebrows from the shadows.
Combine it with the cream around the eyes.
Apply it on the wings of the nose to neutralize redness and capillaries.
To make the lips fuller, apply a drop in the middle of the lips over the lipstick and blend it well.
Apply it around the lips, if you want to highlight them.
You can use Touche Eclat on the neckline.
If the nail cuticles are reddish – apply Touche Eclat, and they will be uniform in tone.
Touche Eclat concealer will hide the flaws on the skin – not just on the face, but on the hands and feet as well.