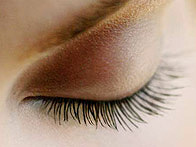 Minimalism is important in summer, like in no other season; the makeup is usually restricted to one product. Mascara is most commonly chosen and the application process transforms into a highly responsible one. Here are some tips which will help you have perfect makeup and make your eyes look ultimately expressive.
Remove Excess Mascara from the Brush
Imagine yourself standing at the mirror, you are holding mascara in your hands, and even have opened it already. Hold it! Check whether there is too much mascara on the brush. If so, remove the excess with a tissue. Do not be greedy since such "generosity" will result in nothing else but clots and weighted eyelashes.
Starting to Apply Mascara
Start from the upper eyelashes first; move the brush from the roots to the tips in a curling manner. While at it, look at first up and then to the side – this way you can cover the corner eyelashes better. Even if you do have some clots left in spite of all the effort you put into the process – remove them with a Q-tip.
Cover Eyelashes from Above
Let the mascara dry up a bit once you are done with the first layer and then carry on. Powder the eyelashes before the "second round" to give them some extra volume. Do not forget to cover them from above, especially if your eyelashes are naturally light-coloured. You may not notice the results of such negligence, but others surely will.
Comb Eyelashes
To complete the process comb the eyelashes with a special small comb. Hold it at the roots from below and then carefully turn it up.
Tomorrow I'll share some secrets of makeup artists with you – they will help you achieve a perfect eye look.