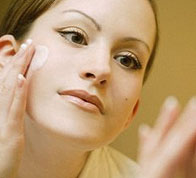 Have you ever thought what kind of makeup is right for a sensitive facial skin? It's important because the way we feel in the presence of others greatly depends on how well our acnes or blemishes are concealed. There are some simple "disguise techniques" that would help you look great all the time and, thus, feel self-confident. Check out how you can create a flawless facial skin look.
Foundation to Hide the Pimple
Choose water-based makeup foundation with anti-inflammatory formula. Avoid foundations and cosmetics powders of pink and too dark shades, or you will only highlight your pimples. Perfect choice would be a shade just a bit lighter than your natural color of skin.
Find a green base corrector – the best thing to really conceal the pimples.
Step by Step Guide to Hide Acne
Before applying makeup, wipe a "problem" spot with cleansing lotion and apply a thin layer of moisturizing cream or gel for oily skin.
Apply green base to a pimple or blemishes and wait for 1-2 minutes.
Apply foundation to the face. When applying foundation to pimples, it is better to use touch-up technique.
Compact or crumby powder will help to even out your overall facial skin tone. It's advisable to apply it using a brush.
Makeup Use and Acne
Stay away from rouges until your get rid of skin imperfections. When choosing makeup, keep in mind there are some color effects that can help draw attention away from problem spots. Top advice from makeup artists is to accentuate the eyes using subdued shades. Go for a lipstick of warm shades. Cold shades make skin imperfections even more noticeable.