The latest Kardashian sisters project is going to be targeted at the nails. It adds a new item to their long sale list that includes clothes, jewelry, tanners and what not. So how about a splash of the Kardashians on your fingers, reality show fans? Kim, Kourtney, Khloe and Nicole by OPI will see to it that their nail statement hits the market soon (competing with other OPI collaborations like Justin Bieber & Nicole polish, Glee polish from Sephora, Katy Perry and Serena Williams stuff with OG).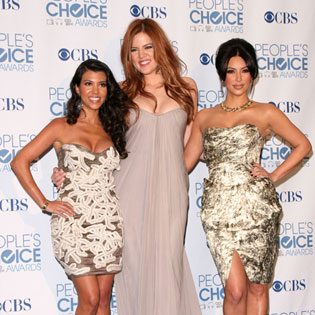 The project has been brewing since some time in April – at least as reflected in the sisters' Twitter messages. Khloe and Kourtney have been sounding off about "amazing top secret" meetings at OPI for some time now with Kourt claiming to go crazy over their polish colors. The final confirmation came this week from Kim who shared they got round to shooting the ad campaign for the product that was announced as a new GLAM nail polish line for Nicole by OPI. Kim went on to promise the best "glitz and glam" colors that they are sure will delight fans.
Source of the image: Teen.