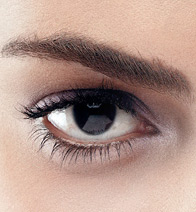 Your eye makeup is so perfect after you've just applied it – you look so nice, so fresh. Self-confident, you leave, but, unfortunately, when you check your makeup in the mirror in the lunch hour, it is no more that great. But how can you come back home after a busy day with the same perfect eye makeup, how do you keep it from creasing? Unfortunately, there is no method that would "work" for everybody. A lot depends on the anatomy of the eyelids. Yet here are some suggestions that might help.
Use Foundation for Eye Shadows
Applying a foundation for eye shadows is a must. First, without the foundation, your eye shadows will slide off. Second, dry eye shadows dry your skin out. Pick an eye makeup primer and corrector of dryish texture or a special eye shadow base as the foundation.
After applying any base, powder your eyelids.
What Kind of Eye Shadow to Choose?
Eye makeup of dry powdery matte eye shadows has the longest staying power. Choose those eye shadows for your daily makeup and save your liquid shadows for special occasions.
How To Apply Eye Shadows Correctly
The thinner the layer of eye shadows, the longer they stay. Use an eye shadow brush for applying dry shadows and an applicator for pearl ones. Do not apply eye shadows with your fingers. Doing so, you won't be able to smudge them smartly and a natural lipid layer of the skin will make your eye shadows oilier.