About a month ago, Donatella Versace presented a collection for H&M, and now she is already working on the second Versace for H&M collection, which will be available from January 19 on the website of the Swedish fashion-retailer.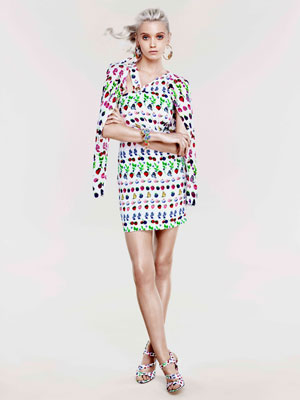 Judging by the first images, the second collection will be a little closer to the real woman's wardrobe: clumsy "tropical" prints have given way to trendy fruit patterns ("vegetable" and "fruit" prints are one of the biggest trends for Spring-Summer 2012), and cocktail dresses in pastel shades have moved to the foreground.
A set of clothes from the second Versace for H&M collection is rather extensive, as in the case with the first collection. These are casual and cocktail dresses, cropped tops in line with the trend of spring-summer 2012, swimwear, shoes, bags and belts with the same "fruit" patterns.