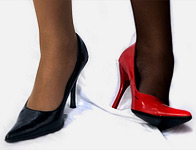 Every woman wants to look great all the time. But there are fashion mistakes that could ruin even the best outfit completely. I'm not going to mention such things as wearing oversized clothes or dirty shoes – this is so banal. I'm sure, you'd never wear them. But here are top 8 fashion mistakes women keep making when choosing clothes to wear. Find out these fashion faux pas and never do so.
Wearing Low-Neck Dresses and Mini-Skirts Simultaneously
There is nothing more vulgar than wearing deep décolleté dress and seductive mini skirt together. This set can ruin even the most beautiful figure! At best, people would think you have a bad taste; at worst, you would pass for a promiscuous woman. This kind clothing is good only for R'n'B videos. As fashion icon Victoria Beckham puts it, never show off all your charms! And I agree with her completely.
Whale Tail
A tong riding up pass jeans waist was dubbed a fish tail or a whale tail long ago. And while earlier fish tails were seen everywhere, today, fortunately, they almost disappeared. "What could be less attractive than washed out thong!", says Camilla Morton, author of prominent fashion books.
Curiously, a waistband of boy-cut panties sticking out of the jeans is accepted by fashion critics (maybe because there is no fish tail).
Wearing Sandals with Socks, Pantyhose or Stockings
Sandals have been initially designed as bare footwear, so leave basic design intact. Moreover, showing off your pantyhose toe seam does not look nice. So wearing nylons is also bad idea if you have peep-toe shoes on.
You can oppose that we've seen models wearing sandals and slipper-socks. But we've also seen bare-breast fashion models walking down the cat walk. Does it mean this style is right for going down the street?
Check, Stripe and Animal-Print Patterns
Check and stripe patterns look always attractive and stylish, given they are worn separately. These patterns just don't team up. The combination could destroy any clothing style and visually deform even nice figure.
You also have to be careful about "animal" patterns. Even if leopard spots on your dress perfectly match the spots on your shoes in color and size, remember that having one "animal" pattern on is quite enough.
Only one article of dress should be patterned
Shorts and Runner Shoes
If you have shorts on, make sure you wear shoes, sandals or, at least, flats. Never wear runner shoes and shorts, except for when you are going to exercise. Runner shoes are not the right footwear to accentuate the beauty of female feet. That's why, follow the simple rule. If you want to open your feet, choose something more graceful. Besides, your shorts should not be too tight.
Long Fur Coat and Flat Boots
Long fur coat a priori looks impressive and presentable. In a way, it indicates your high status, so don't "lower" your status by wearing flat boots. In addition, flat boots often have rough forms which don't marry fur.
Clothes that Don't Suit
I'll give you simple example – just recently leggings were a fashion craze with fashion magazines showering praise on them and everybody wearing them. Of course, we all want to look stylish, but let's face it – leggings are not for everybody to wear. They look comic on well-shaped but skinny legs, not to mention they make fatty legs look ugly.
Be frank to yourself – if the dress does not suit you, put it off immediately.
Sparkles and Glamour
Rhinestones, paillette and beads look really awesome. And even a baseball cap with rhinestones all over would look nice given the rest of your clothes does not glitter. As far as glamour is concerned, you have to know where enough is enough. So when you wear a top tube with rhinestones pattern, make sure there are no patterns on your jeans and footwear. In this case, it would be also smart to avoid bracelets, earrings and glasses with sparkling details.
Source of the image: mlive.com.