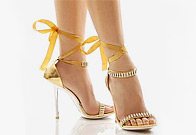 Men like women with beautiful legs, women envy other women their long legs. Everybody knows that the way our legs look greatly depends on what footwear we have on. But I'm sure that only few are aware of little tricks which can help accentuate the beauty of female legs. Raise your awareness from this article.
Bare Feet
Maybe it doesn't feel comfortable but all fashion experts agree on one thing – wearing shoes barefoot is more visually attractive. "One of the sexiest things I can think of is female feet clad in luxurious leather shoes!" – exclaims Manolo Blahnik who does not need introduction.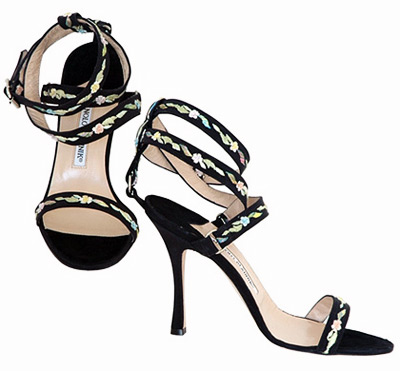 Height and Shape of Heels
Nothing could accentuate the beauty of your legs better than a heel. It's been the theme of hundreds of articles, and everyone – from your best friend to fashion consultants and your boyfriend – would say the same.
The higher the heel, the slimmer you will look.
"4 inch heel is a must! You'd better go up to 5 inches!" – advises the chicest shoe designer Jimmy Choo.
Shoes with nail heels and stiletto heels outshine any plastic surgery in their effect, giving your legs a new look.
Forget about wineglass heels. These heels make wide hips look even wider and thin calves even thinner. To top it all, health experts found wineglass heels had a negative impact on the spine and posture.
Footwear That Makes Your Legs Look Longer
In order for your legs to appear longer choose sandals having two straps (the best option would be a model featuring straps interlacing in front or at the rear). Make sure you have perfect pedicure and well-groomed feet skin if you are going to have the pair of such sandals on.
Models with slightly pointed tip, but no sharp shoe tips allowed! Rounded shoe tips make your legs look shorter.
The following kind of shoes will also make your legs appear longer:
High heel shoes with a small toe platform.
Peep-toe shoes.
Peep-toe combined with open heel area.
Shoes featuring large exterior detail (like a bow, flower, ect.) attached at the side in the toe area.
Lace shoes. Marie Antoinette who was a queen and empress of style in her time preferred this kind of shoes.
"Low-neck" shoes showing almost half of the length of your toes.
Shoes having a narrow strap running around an ankle. Though if your ankles are a bit fatty, try not to accentuate them with straps.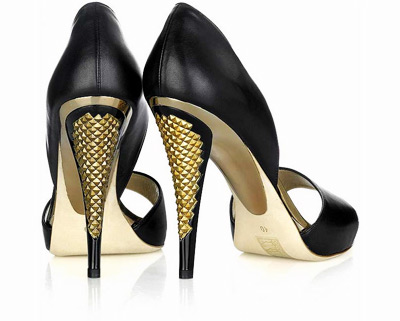 Source of the image: walkamileinmystilettos.blogspot.com, kristopherdukes.com, beniboutique.com.