Halloween is here and you're going out to celebrate with friends at a party. You've decided on a costume – you want it to be a real head turner – but you are looking for something to give it that extra edge. The perfect accessory so everyone notices you… How about some special effect Halloween contact lenses? You can frighten and impress other Halloween party goers by wearing a pair of these fascinating crazy contact lenses.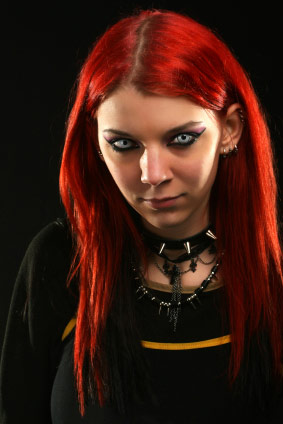 So you've decided to wear a cat costume, slinky, sleek and sexy, fluffy and cute, or strong and wild – just add some cats' eyes crazy lenses, and your outfit will be completed with a touch of realism. Or do you want to go as an alien? Use some special effect Halloween contact lenses to give you a real "out of this world" appearance. How about adding a little warmth to your costume? Just wear some crazy contact lenses featuring flames to really heat things up. Looking for something a little scarier? Try some crazy contacts that black out your whole eye, or turn your eye completely red from pupil to iris! There is no limit to what you can do with crazy contact lenses – your imagination is all that is stopping you!
Halloween contact lenses, or crazy contact lenses, are an exciting fashion accessory that can really give your outfit that extra allure. Your eyes can be your most spectacular feature, and with special effect contact lenses, you will really make them stand out! Change how you look in seconds – match your mood and match your outfit with these stylish fashion accessories, to get the look you want! Make your friends envious when you turn up wearing crazy contacts. Make people look twice when you talk to them. You will be noticed! From simple colored lenses that completely alter the color of your eyes, to special effect lenses, there is something to suit everyone and every occasion.
Often used for special effects in movies and theatre productions, crazy contact lenses are becoming their own fashion style, and even celebrities are wearing them (think Marilyn Manson for one). Crazy contacts can be worn up to 30 times, with proper care, so the fun doesn't have to stop at Halloween! These special effect contact lenses are perfect for any fancy dress occasion or just for a night on the town. Impress your friends, and set the trend. Grab the attention, and imagination, of any person you want when you accessorize using these remarkable special effect contact lenses. And even if you usually wear corrective lenses, you can still wear crazy contact lenses, as they are available both with and without prescriptive correction.
With fashion accessories like special effect Halloween contact lenses, you know you will have the best costume at the party! So go on, be a devil.
Source of the image: Lensshopper.com.