There appeared opposite opinions about one of the most anticipated collections for Spring-Summer 2013, Dolce & Gabbana, demonstrated recently at the Milan Fashion Week. The fact is that some people accuse Domenico Dolce and Stefano Gabbana of questioning the freedom of the black race and remembering its historic slave status.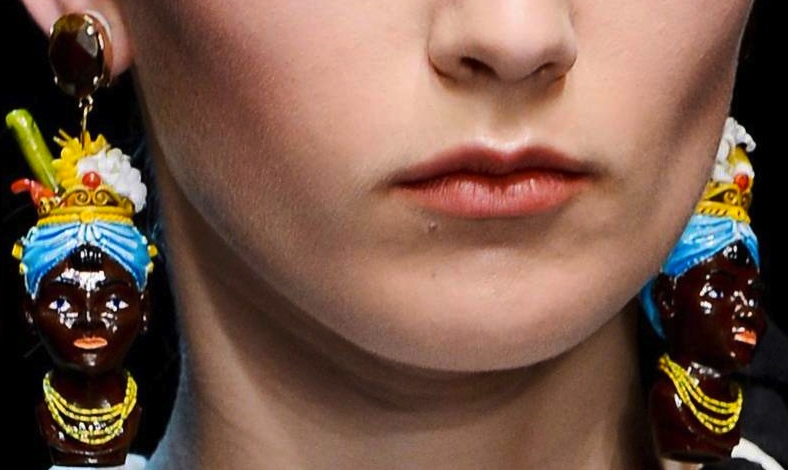 The theme of the new collection of the Italian duo was the fashion trophies of medieval knights, brought by European warriors from perennial military campaigns: spices, silks, embroidered tapestries and exotic outfits, alluring oriental shapes, folds and drapes with colorful padded ornaments, beaded embroidery, floral still-life prints, African braiding, tassels and massive hand jewelery. If to remember history, black slaves also were among the "trophies" brought from distant countries. Their images were also cited in the collection of Dolce & Gabbana in the form of large earrings and images on dresses.
There is no denying that slave trade used to exist throughout the Middle Ages in Western Europe. At first, it was royal privilege, and then it was officially granted to wealthy individuals. However, the reproduction of this historical fact was found offensive, although neither the collection, nor the models of the dresses and earrings were called "dresses with slaves" or "earrings with slaves" as opposed to the mistake once made by the Italian Vogue. At the same time, during the show of the collection there were no black models on the catwalk. This was the last straw for the opponents of Dolce and Gabbana. On the other hand, it is difficult to imagine what kind of a storm there would have been if a dark-skinned beauty had appeared on the catwalk in the earrings with the image of African slaves. John Galliano's anti-Semitic remarks, which led to his being fired from Dior, would have seemed a trifle.
We raise this issue at the time when we already need to drop the remaining earthly prejudices and think about how, for example, to protect our wardrobe from the coming invasion of the Martians, or how to choose the right clothes for the first vacation in a spaceship. It is time we stopped beating about the bush, discussing the theme of the skin color. This issue should have already gained the status of a dinosaur.
But it is not a coincidence that the fashion duo selected these prints and white models. The "astonish to make people talk about you" principle still works (let us recall Lady Gaga's meat dress and 54-year-old Madonna's bare breasts on stage, to name a few).
We believe that the problem is fabricated. Apparently, this is the reaction Domenico and Stefano sought. Well, bravo! It was bold, stylish, interesting, new and original. Isn't it the main thing in fashion?
Watch the full Dolce & Gabbana Spring-Summer 2013 show at the Milan Fashion Week below: