The September marathon of fashion weeks, which has come to an end recently, has given the audience a lot of unforgettable moments – unexpected discoveries, surprises, bitter disappointments, and some designer findings that we, being slightly confused, still can not estimate. Yes or no? Good or bad? Must-have or epic fail?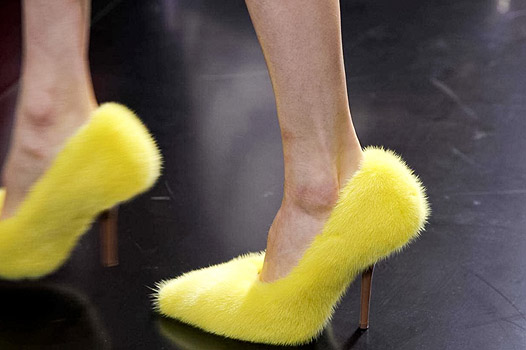 That is the reaction to the works of Phoebe Philo from England that the enthusiastic audience had. It is her fourth year as the creative director of the Celine House. Indeed, she is one of the most talented and respected designers of our time, who had worked with the Stella McCartney and Chloe brands and opened a new era of fashion with her coming to Celine. 38-year-old Phoebe Philo is known as a master of laconic cut, she makes mainly clothes rather than spectacular outfits. In addition, women throughout the world are crazy about her shoe finds. The latest fad is boat shoes on a trapezoidal platform, which replaced dangerous stiletto shoes in the fall-winter 2012-2013 collection.
Having given birth to a baby, the designer returned to work, and during the Paris Fashion Week she introduced a new spring-summer collection of tunics, pullovers with sporty V-necklines and trouser sets of a free cut, complemented with… unexpectedly bright and fluffy footwear.
We do not hurry to criticize the fluffy red mink slippers and sandals as well as yellow "chickens" on the Phoebe Philo furry stilettos. However, we cannot make haste and say a confident "Yes!" as well. Meanwhile, the top fashion critics have different points of view.
A good acquaintance of ours Cathy Horyn of The New York Times, one of the top ten most influential fashion journalists, who had already marked the new season by having a squabble with Oscar de la Renta and Hedi Slimane, did not miss the opportunity to make herself clear:
"I guess Ms. Philo didn't feel like getting dressed. Seriously, though, who wouldn't be tempted to throw a big housewife yawn at all the noir-satin looks on the runways? Who wouldn't want to wear furry slippers all day? "

And that is how the reply of Jo-Ann Furniss, a fashion observer of Style.com, begins:

"The shoes were key to this collection: furry, witty, unhinged. In a mostly black and white offering, they disrupted any notion of sobriety. Predominantly flat – yet with some also rather remarkable fur-covered stilettos."
These shoes can be described in any words, but there certainly will be no epithets as "ugly." Love is blind, after all. And this collection is surely saturated with love. To sum up, one can say that he laughs best who laughs last. We are convinced that Phoebe Philo will be the last to laugh, in case there are crowds of fashionistas in furry stilettos in the streets.
And what is your opinion?
Watch the full Celine fashion show below: