The September marathon of fashion weeks has drawn to a close. During the 23 days of fashion shows, running without breaks and days off, the fashion world had been observing the next spring innovations, displayed one by one in the collections of famous designers.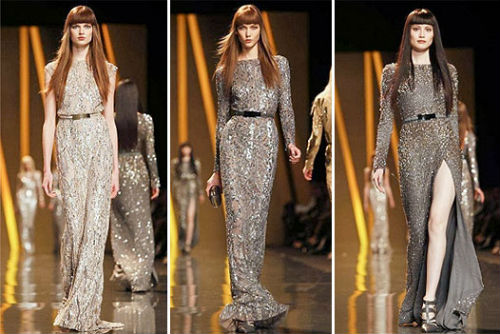 The New York – London – Milan – Paris marathon came to its logical outcome, which, according to tradition, signifies the beginning of a new spring. In fashion, as you know, it comes much earlier than in the calendar. What we still have ahead, is two Moscow Fashion Weeks, and a cold winter, when we will be warmed by the expectation of a new warm fashion season. Now we know exactly what we will be dressed in!
However, we cannot say goodbye to the events in Paris without discussing one of the final fashion shows at the Paris Fashion Week – a new collection by Elie Saab.
The Lebanese designer considers next spring monochrome: the author dressed his catwalk heroines in soft-blue, turquoise and powdery sets of dresses, silk blouses, pants, shorts and costumes. The monotonous start gradually moved to the line of dresses decorated with colorful prints, reminiscent of sharp watercolor strokes in a dramatic palette of red, black, and white. One could also enjoy the designer's traditional line of lace evening dresses, that we eagerly welcome at all red carpet events.
Watch the full Elie Saab fashion show below: