A couple of years ago flare jeans were considered one of the most irrelevant styles, and most fashionistas tracked all the new collections of the most fitting skinnies or, conversely, loose democratic boyfriend jeans. But in the spring of 2015 this thing is fashionable again, and so the beloved hippie style of the 1960s is back in fashion.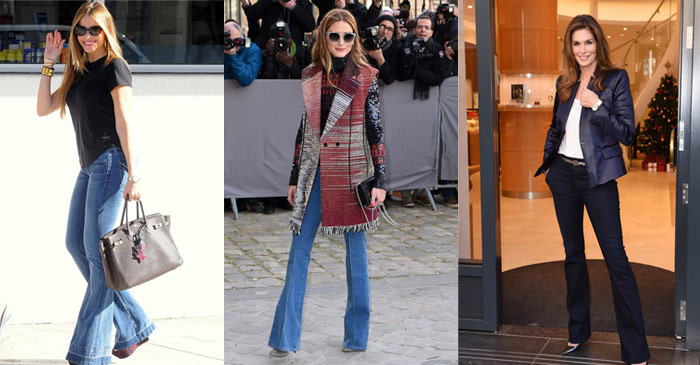 This "comeback" has delighted many fashionable women, including stars. The most famous fans of flare jeans can be seen in a fresh selection by Geniusbeauty.com!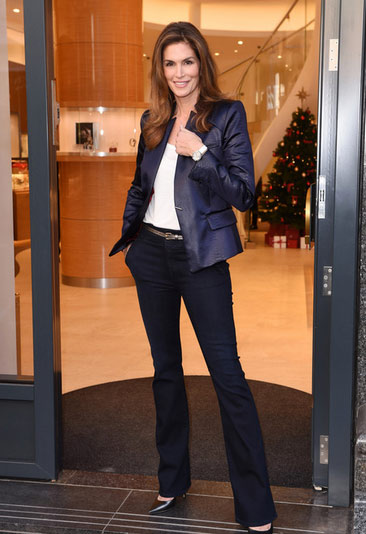 Cindy Crawford's image will convince those who want to wear flare jeans on workdays.
If you have decided to take an example from the group of "flare fans", note that the most successful images are made up with heels. This is a really important point – if you choose flat shoes, even in case you have an ideal figure, which even Gisele Bündchen would be envious about, – you will gain nonexistent extra kilos.
To create an image in the casual style you may complement jeans with a denim jacket in the men's style, with a shirt tucked under the belt, and pumps or minimalist sandals (we may study the appearance of Cindy Crawford and Salma Hayek). Those who want to pay tribute to retro motives should look closely at Poppy Delevingne, Rachel Zoe and Chiara Ferrand.
Another version of the image with flare jeans is best suited for a free walk in a summer park with friends or children. We may watch the appearance of Hilary Duff and Jessica Alba and complement flare jeans with comfortable wedge sandals, a simple T-shirt and a spacious bag.
Do you like to have flare jeans?