For many decades, leather has been the favorite material of designers. The main secret is that leather is a unique material – strong and flexible, able to embody almost any fashion innovation in the decoration, texture and detail.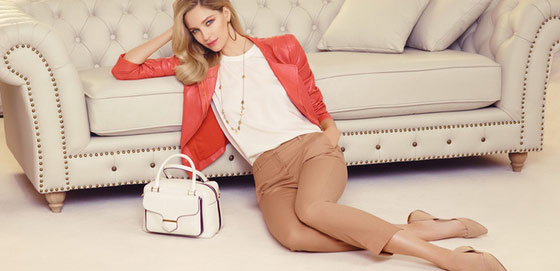 What is good and convenient about a leather jacket?
Besides the fact that it still remains number one in the list of major fashion trends, a leather jacket is still the most practical item of clothing because it is not afraid of rain, wind, and does not require any complicated care. And if you mention the fact that no other fashion item can create such a harmonious pair with business style clothes as well as with jeans or a flying chiffon dress, helping to make any image extremely topical, it turns out that one cannot live without a quality jacket made of genuine leather.
What interesting things can be seen in the new season?
Oversize
The trend of excessive volume continues to lead among the fashion trends. It may seem that this trend is no surprise; however, designers continue to find more and more new ideas. A free silhouette, lowered shoulders, and bulky sleeves. As a rule, an oval silhouette is characteristic of clothing in this style.
Asymmetry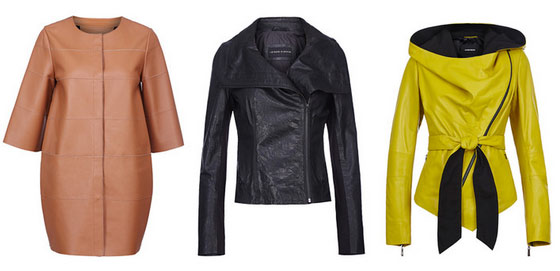 Leather jackets with an asymmetrical zipper are the current trend of the new season. Thanks to the original asymmetrical zipper, you can experiment with the collar, creating different images.
Collarless jackets
Fashion contradictions make our life more interesting. Besides, everything tends to reach equilibrium, so we consider this elegant, feminine and noble trend to be perfect for spring and summer as an alternative to complex asymmetrical collars. Jackets, coats and collarless jackets. Minimalist and discreet, they successfully combine fresh mood with a light shade of retro style.
The 1960-s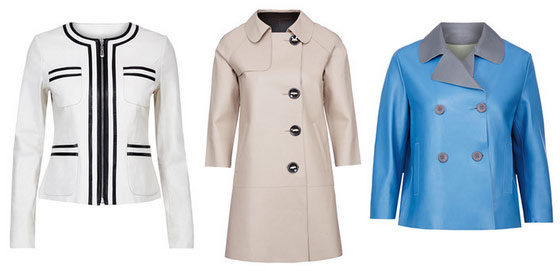 Retro silhouettes in their modern interpretation – not a single fashion season passes without returning to a particular epoch. Today, these are the inspiring 1960-s. A-silhouette, rounded shoulders, a turn-down collar, a stand-up collar or no collar at all, a ¾ sleeve as well as clean lines, a simple cut and a minimum of details.
Romance
Romantic style is of priority in the spring and summer of 2015. Perhaps, this is the most elegant and refined fashion trend, unjustly displaced in recent years with all sorts of unisex manifestations. A feminine silhouette, an accentuated waist, numerous pleats, frills and ruffles, emphasis on the breasts and hips are the traditional features inherent to a romantic image, if you have already forgotten them.
Sport Chic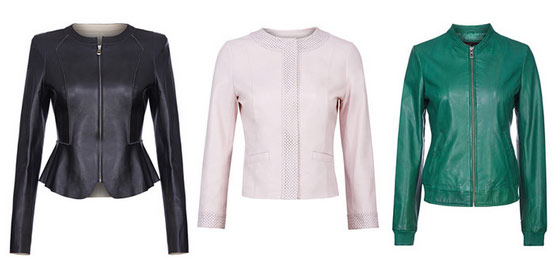 With the fashion for a healthy lifestyle, clothing in the sports style has safely migrated from fitness clubs to the catwalk, red carpet events and offices. This philanthropic tendency could not but touch the things made of leather. Bombers and jackets are distinguished by freedom, convenience and comfort, and characterized by a soft volume and functionality.
Biker jackets
Leather biker jackets will long haunt the fashionable circles – they are perfectly combined with bold images and harmoniously complement a variety of styles such as rock, glamor, punk, grunge, boho and others. Rivets, zippers, and other attributes of the image of a rock star are still fashionable!
Quilted jackets
A bright way of dressing that is worth special attention. Quilted jackets can have varied patterns – not only in the form of the usual squares and diamond shapes, but also reproducing fairly complex patterns that make the product look unique in style and good in quality.
The neoprene effect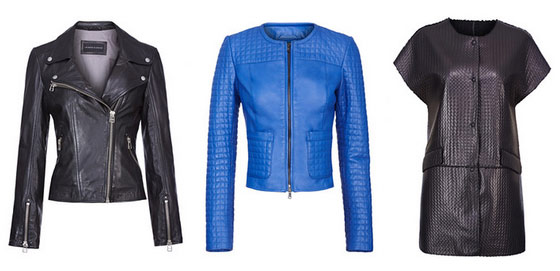 Fashion-industry is still bolder and more willing to use innovative materials. Thus, neoprene became a breakthrough that has changed the current fashion silhouettes beyond recognition. The neoprene effect for genuine leather clothing consists in the following: this is a two-sided material composed of leather and knitwear glued together or two layers of leather. This material becomes so comfortable and aesthetic that it does not require any lining.
How to choose a quality leather jacket?
It is not enough to focus on fashion trends in order to choose a leather jacket. To buy a real quality thing of genuine leather, you need to know some of the peculiarities.
Sheep and cow leather are traditionally considered unsurpassed in quality, but thanks to modern technology of the production and processing of the material, such types of leather as pork, traditionally considered not the best one, deserves designers' and consumers' approval.
All types of treatment can be applied to the leather of different thickness. Typically, the thickness of leather ranges from 0.3 mm (kid-skin leather) and 0.7 – 0.8 mm.
However, it should be remembered that the thinner the leather is, the more expensive and delicate to wear the product becomes. The product made of thicker leather is durable.
What to look for when buying:
Try your favorite thing on – when moving hands, the jacket that you find suitable for your type of figure and size should not hamper the movements.
Pay special attention to the quality of leather in the places that are visible at first glance – the underarm area, back side, the back of the collar – if there is poor-quality leather, it gets quickly deformed, which may result in deformation of the entire product.
If we rub a clean piece of white cloth against the product surface, the cloth should not get dirty.
Do not buy leather products, if you are not sure whether they have a special label with the information on the needed care.
Carefully inspect the seams of the jacket as well as the lining and the surface of the product – there should be no missed loops protruding threads, cracks and breaks.
Pay attention to the cuts – quality leather should not only be uniform in thickness and density, but also uniformly dyed.
Do not forget the accessories:
the buttons are well secured and are easily buttoned or unbuttoned;
the zipper moves freely;
the buttonholes are gently neatened.