Our today's review contains several curious variations of how you can decorate eggs for the coming Easter. Of course, many people celebrate this holiday, and it will be useful for them to learn some more amazing ideas about Easter eggs.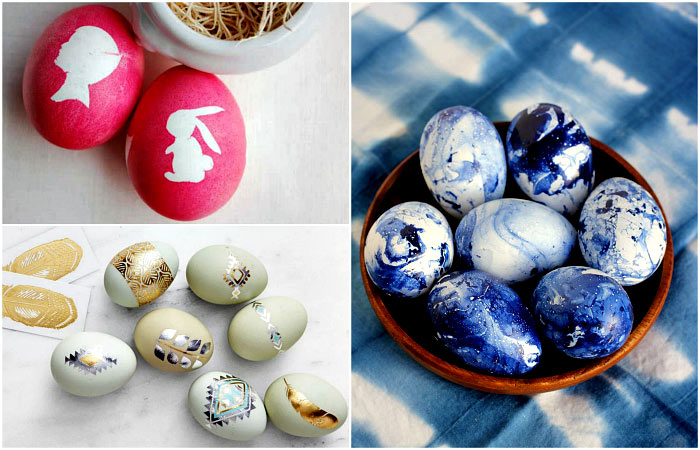 1. Silhouettes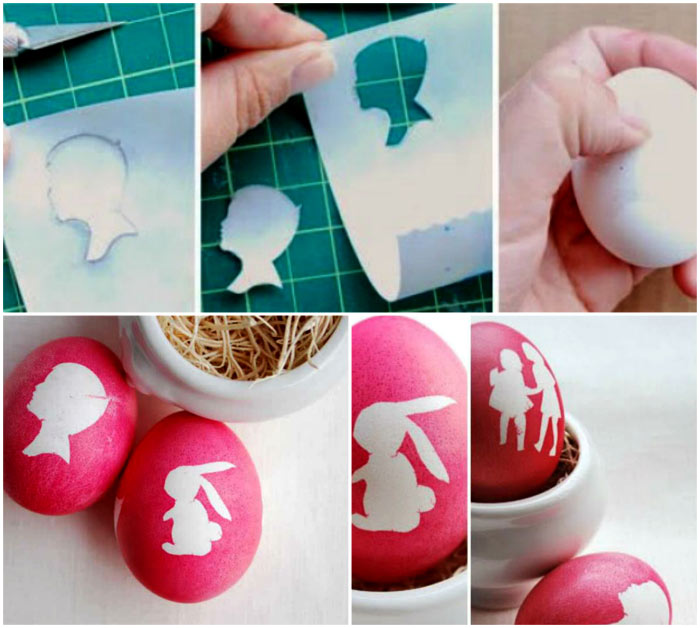 Easter eggs, covered with a thin layer of monochrome paint and decorated with silhouettes of people, birds and animals, are very easy to make with the help of a special dye and a pattern, cut out of glued paper. Simply glue the prepared picture to the surface of a clean egg, dip it into a bowl with the dye, and when the egg dries, remove the paper carefully.
2. Marble pattern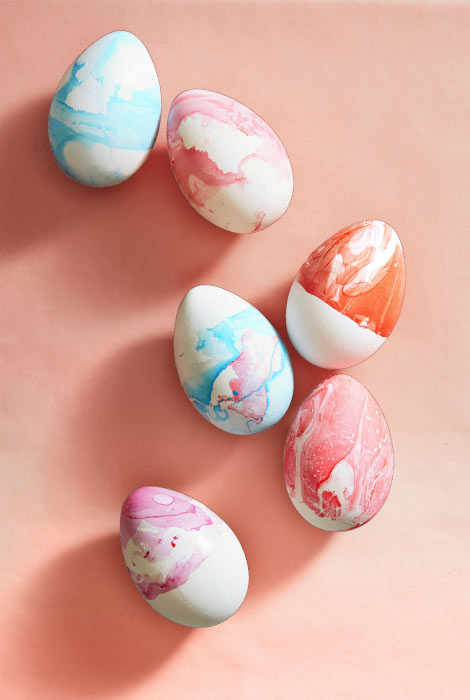 Easter eggs decorated with stunning marble patterns can be made with the help of a common nail polish. To do this, drip a few drops of nail polish of one or more colors in a small container with water, gently mix it to get some kind of pattern on the surface, lower the egg into the container so that the picture sticks to it and then let it get dry.
3. Disco Easter eggs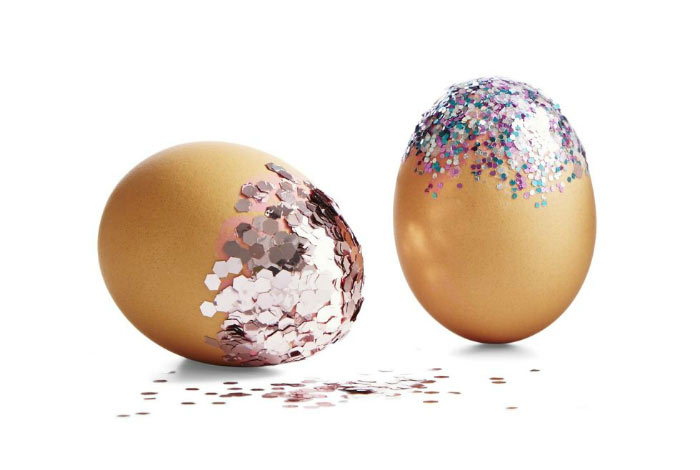 The easiest way to design eggs for the holiday is to use glitters or sequins. To do this, the surface of the egg should be covered with a thin layer of glue and dipped in sequins. If you want the result to be more elaborate, take and fasten the sequins using a thin brush.
4. Fruit and vegetables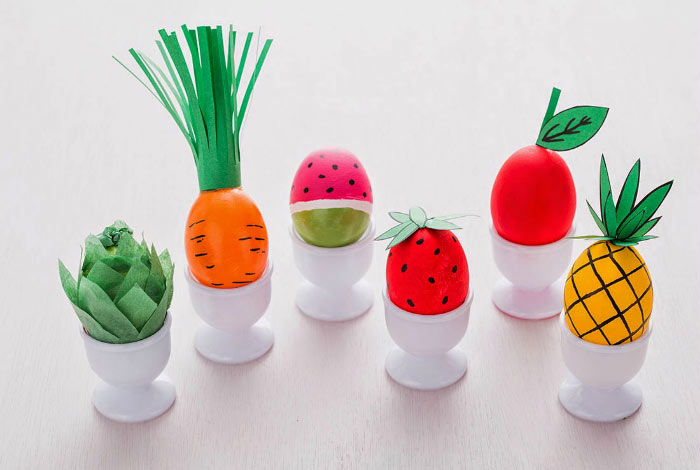 You can decorate Easter eggs with food colors and colored paper, turning them into funny fruits and vegetables.
5. Abstract flowers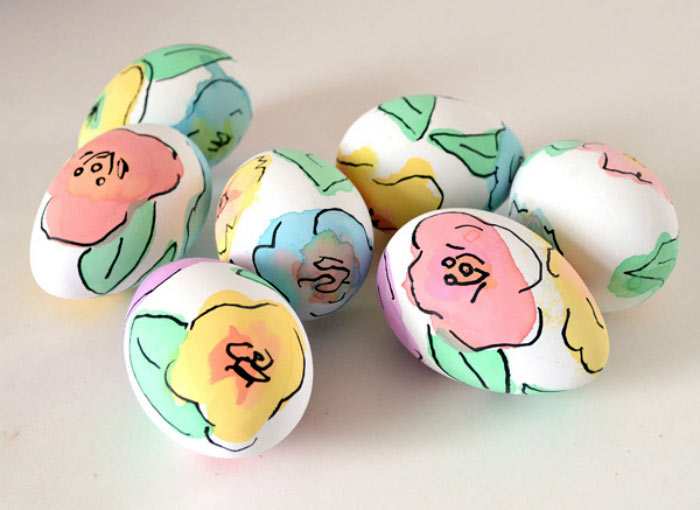 Easter eggs, decorated with flowers in the watercolor style, can be made even by those who cannot draw at all. Use cotton wool soaked in paint and put a few blots on the surface of an egg and then use a marker to draw the missing details.
6. Colored stickers on Easter eggs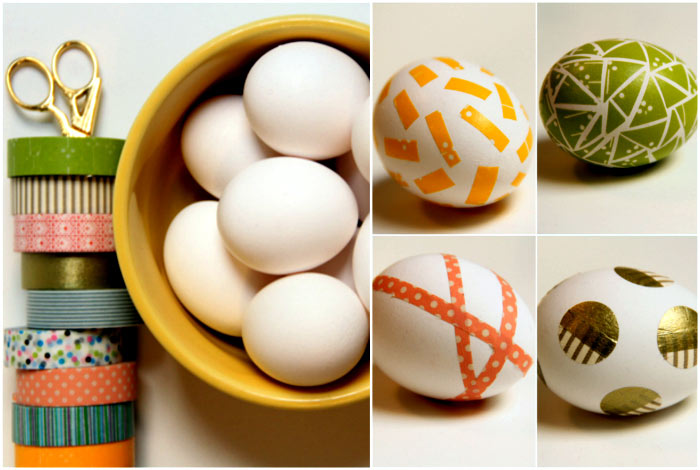 Buy a few coils of colored tape and use it to design eggs for the holiday. Eggs with multi-colored circles, rectangles, triangles and other figures look very original and fresh and become real decorations of the festive table.
7. Toys
Blown out eggs can be used to create charming figures of birds and animals. For this purpose, the shell needs to be painted in the appropriate color. Next, you can attach to them small parts shaped as ears, tails and beaks, cut from colored cardboard.
8. Cheerful ice cream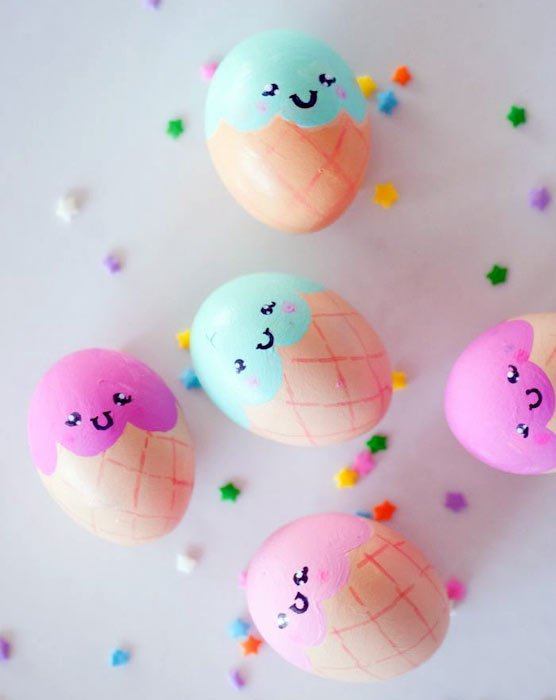 With the help of paints, black markers and minimal artistic skills, blown out eggs can be turned into charming ice cream horns. It is best to use brown eggs for this purpose, which should be divided into two parts with the help of paint: a cup and cream. For the cream bright colors can be used, and the lower part can be divided into cells with the help of brown paint.
9. Texture pictures on Easter eggs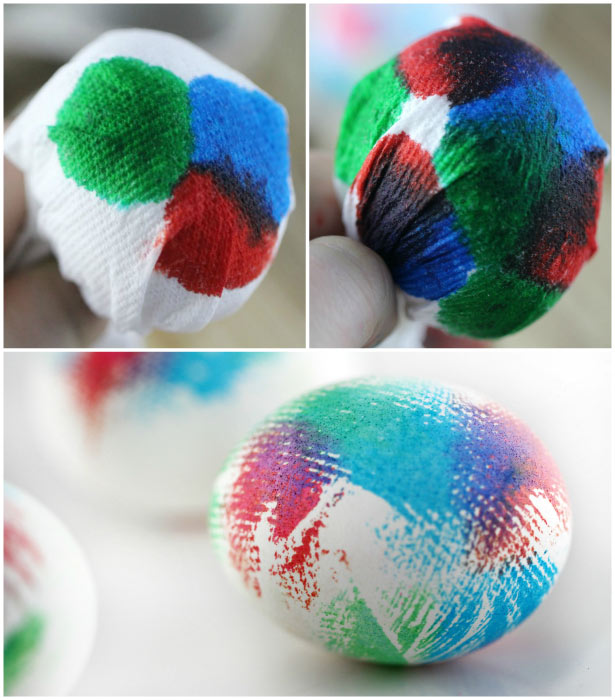 Using paper towels and paints, you can get bright festive eggs decorated with unique texture patterns. To do this, wrap the egg with a paper towel, insert a brush or sponge in the paint and apply it to the surface of the towel, watching the paint spread over its surface; then remove the towel and let the pattern dry.
10. Simple drawings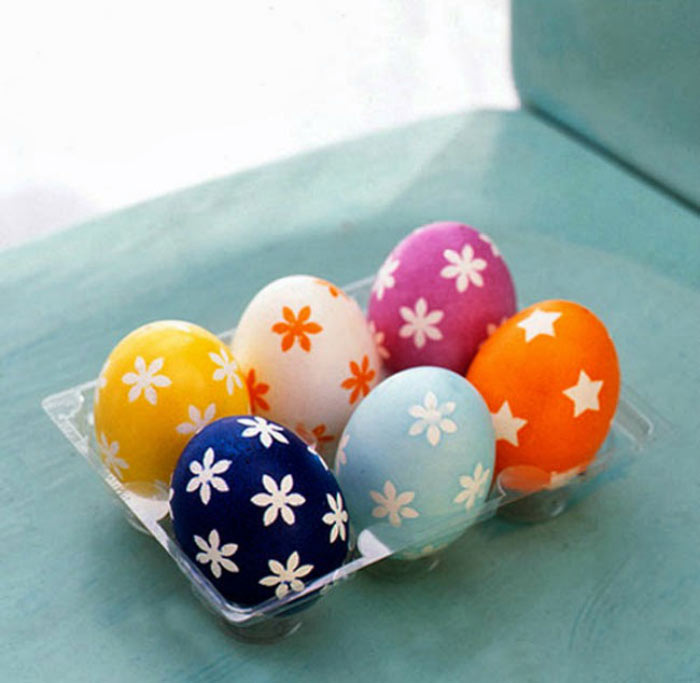 To design eggs with simple drawings, plain paper will come in handy. Сut out tiny stars, hearts, circles and flowers and glue them to the surface of clean eggs. Dip them into a container with paint. In the tinted water, the glue will dissolve quickly, and after drying you will easily remove the paper.
11. Blots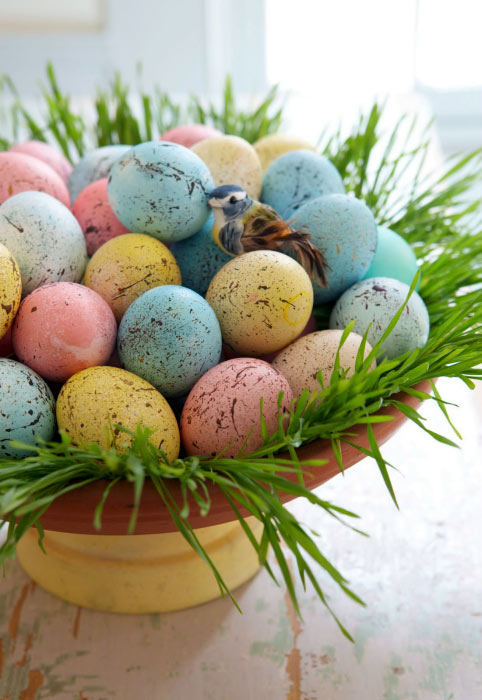 This way of designing eggs is perfect for people who cannot draw at all, but they want to decorate the festive table with beautiful and original Easter eggs. First, just paint eggs with a food coloring in one tone and wait until the paint dries. Apply any dark paint to the brush and sprinkle the surface of the egg by pulling off its bristles.
12. Botany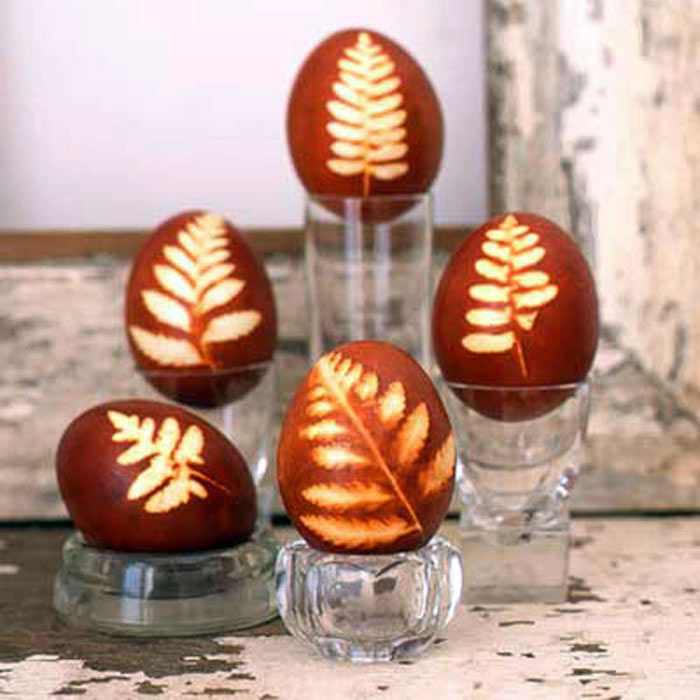 Eggs, dyed in a decoction of onion skin and decorated with original botanical prints will surely appeal to fans of nature and natural materials. For a similar decor, apply leaves, flowers or twigs to the surface of raw eggs, wrap them in unnecessary tights and boil in a saucepan with onion skins.
13. Lacquer coating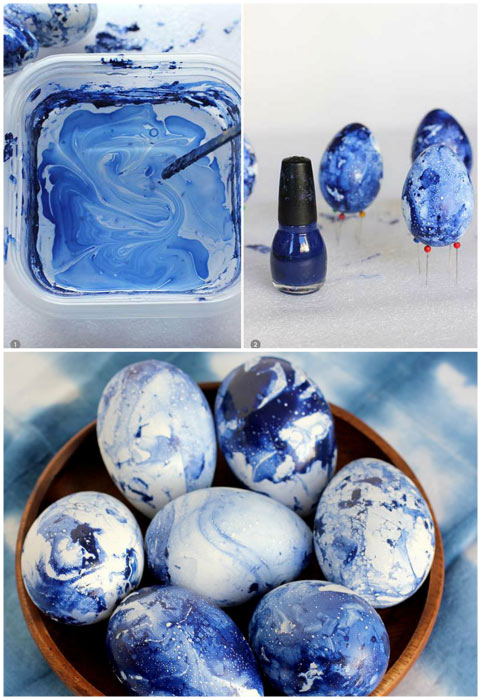 Use blue lacquer to turn the eggs into real works of art. Simply pour a little nail polish in a container with water, gently stir with a toothpick, place the egg in the water so that it is completely covered with the liquid, gently remove it and wait until the coating dries. It is worth saying that Easter eggs colored this way should not be eaten.
14. Flash tattoo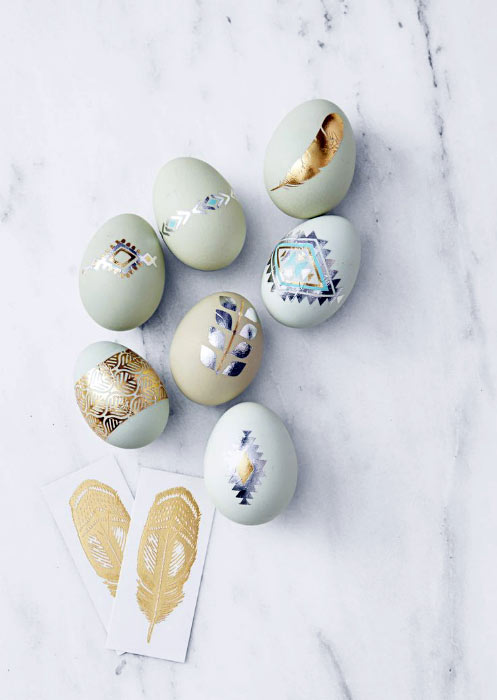 It turns out that temporary tattoos of gold and silver color that used to be sensational last year can be used to design eggs for the Easter holiday. Select the desired drawings and transfer them to the eggshell, just as tattoo prints are transferred to the skin.
15. Applications on Easter Eggs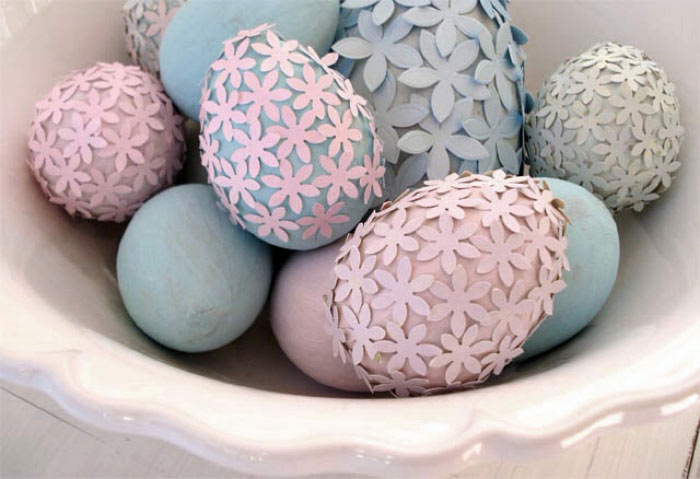 Flower application is another creative way of decorating Easter eggs. To do this, the pre-painted surface of eggs should be covered with flowers cut from colored paper. Attach the flowers with silicone glue and place them as close as possible to each other.
16. Stripes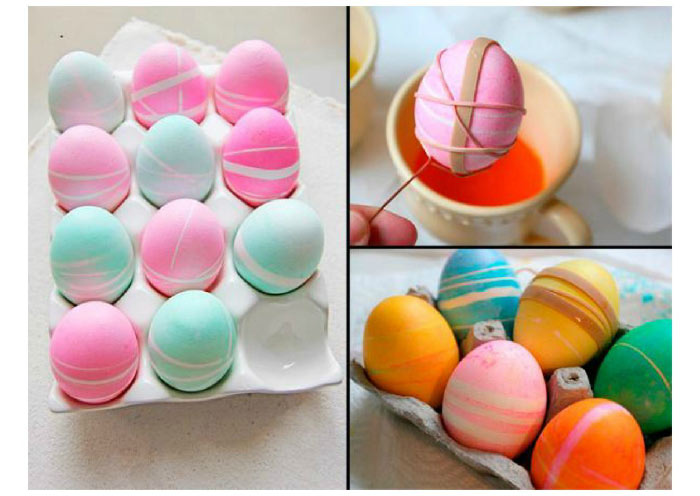 When painting eggs, it is possible to achieve a striped effect with the help of threads or rubber bands. Use them to wrap the egg before putting it into the dye.
17. Contrast ornament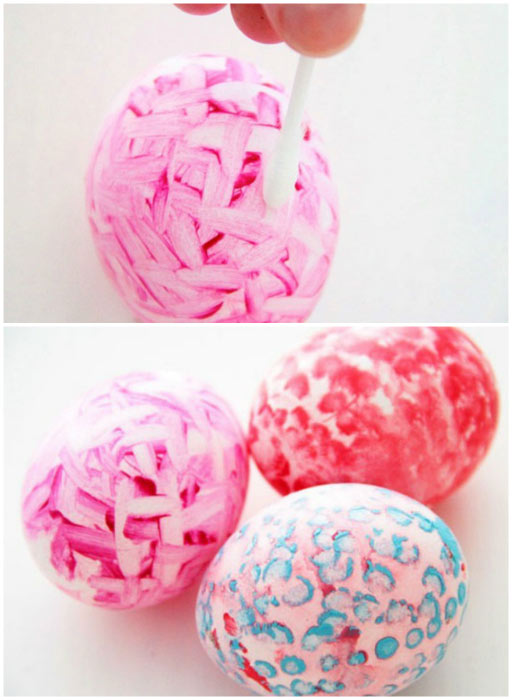 To create an intricate contrast ornament on the surface of an egg, you can use a cotton swab and two shades of the same color. Just draw dots and lines on the surface of an egg – first, the base color and then its darker shade.