A gorgeous waterfall braid look is romantic yet playful and easy enough to do. It can be perfectly suited for a date night, special occasion and just a casual everyday look. It's a fun twist and timeless style that can spice up your hair. Check out how to make a cute waterfall braided hairstyle and rock this day or night!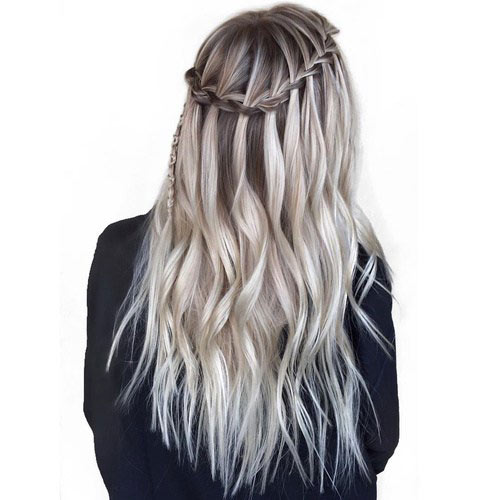 There are hundreds of thousands of hair styling possibilities. Once you know how to braid your hair – French braid, rope, fishtail – the extensions and ideas are endless. Furthermore, you can make braids with a boho vibe or create a magical hairstyle by coloring the locks in purple and blue or so-called candy colors, and simply tie them into a waterfall. Such combinations are starting to become mainstream these days and make you stand out even when you're laid back!
Besides, if you have short or medium hair length right now and tired of brushing them up to the side, you may want to get in on this fun hairstyle trend. As the waterfall braid is possible to do even if you have a short fringe. Scroll down for our delightfully easy waterfall braid tutorial, as well as bonus tips on how to do a waterfall braid with some natural vibes.
Tutorial: How to Waterfall Braid
If you think a waterfall braid is difficult to master, remember, it is just a criss-cross braid across a head. The only exception – to get the waterfall look, you need to gather each new section of braid without closing one side. When finishing your hair you can try to close it with a bun or ponytail instead of completing it with the braid. It is a style that can be as good for long and medium length as for a short hair since it twists your hair. Let's just take a detailed walk-through and view the step by step tutorial:
Start with freshly dry hair
Before beginning your braid, wash and refresh your hair or better spray it with a dry shampoo before blow-drying to get a better texture. These methods will make things look more fluffy and messy.
Create loose, bouncy curls
The most fashion ladies love to style their own hair with curls. If you have a long or mid-length hair, the waterfall braid with loosely wide iron curls will make your hair unique. Professional 25/32 mm curling iron with high-temperature durability will create volume and natural shine looking curls with elegance.
You can still just sleep your way to curls with no heat. Take a ribbon headband, use a spray on your hair, wrap slightly sections of hair around the headband, sleep on it, and wake up with curly beach waves.
Part your hair in three sections
Choose one side where you want your waterfall braid to be. Note: there is no need to make a thoroughly perfect sharp line. It would be a nicer look with casual and messy touch. You don't even have to use a comb; just use your fingers to start your braiding all the way until it ends.
Test your braiding skills
Separate a section of your hair into 3 parts and begin braiding by moving from the top left or right side to the opposite one. To start a braid, you have to use a typical 3 strand braiding method: cross the top strand over the middle part, and then cross the above strand over the middle part again.
Begin to put more hair outside into the original sections of braid you started with. In the end, you will get a French chain. We now need to make a waterfall look. So instead of crossing the above strand of hair over the middle part like you would originally do with a French braid, drop the above strand when starting a new chain and make it hang down. And here it goes – the waterfall effect that worth the time it takes.
Secure your ends with a bobby pin
Finish with the French braiding or three strands method straight down over the hair end. Use a bobby pin or a hair tie to secure the ends, or you can make the knot or bun to hold the rest of the hair.
Complete the look with spray
Put some holding spray for the perfect finish or you can use a texturizing spray to achieve a beach wave look, or just leave hair straight. Done!
Bonus
The DIY waterfall braid tutorial is easy to follow, and if you've got hipster or rainbow color, or pastel strands, do not hesitate to experiment and make a waterfall braid with curls! For all the fashionistas, you can start your braid with ombre hair dying for a genuine waterfall effect. When you simply let things go, everything comes out much better. Moreover, to convey your personal style try to:
Combine waterfall braids with other techniques as:
Dutch completing with a braided bun;
Double waterfall and fishtail braid;
Double waterfall and French braid buns or ponytails.
Put some flowers in your braid to create a boho look. It's perfect if you add fresh flowers into or sparkly pins to make a festival crown.
Channel your inner boho vibe by pairing a waterfall braid and a cute headscarf.
Pick up stunning hair accessories: jewelry or hair rings. They are a must have thing nowadays.
Stay tuned with therighthairstyles for more inspiration, trends, and tutorials! We hope you enjoyed this tutorial and will recreate the waterfall braid without any problems.