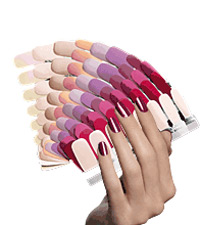 I've recently found something new in cosmetics, something, that can substitute nail polish and rid women of yellowish, unhealthy nails, which is often caused by the frequent use of nail polish and nail-enamel remover. It's called Instant Manicure Dry Nail Enamel Strips, produced by Avon. This is real nail enamel, but dry. It should only be stuck on your nails and then shaped according to your nails' shape and length and then you'll get a perfect manicure (or even French manicure, as there are French manicure dry enamel strips, too) with the color you have chosen.
Quick and Easy Manicure
Each set includes 16 dry enamel strips, which are good for one manicure, so if you mess it, there are extras. It wipes off easily with nail-enamel remover. So, instead of tormenting your nails with nail polish, then nail-polish remover, then, again, nail polish, you just stick the strips on your nails and remove the excess (read below, how). They can be worn up to 14 days and still look nice and have the same color. When the nails grow, the strips can be easily removed using nail-enamel remover.
How to Use Dry Nail Enamel Strips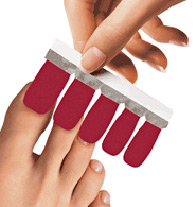 First, peel off the little silver tab attaching the nails to the film and remove the chosen pod, then place the rounded edge close to your cuticle. Press from base to tip, smoothing out the air bubbles as you go. This process will take some time at first and need a bit of practice, but later you will have no problems with it. The pod hangs off the top edge of your nail. Now simply rub the polish film gently across your nail edge and it will just fall down. That's it! Some even use the extra pods for the toenails. But there's a pedicure kit, too.
Problems in Use of Dry Nail Enamel Strips
When using these enamel strips you don't have the mess of polish all over your cuticles, but there may be other complications. Some women have troubles positioning the strips on their nails, for some the strips are the wrong width for the nails. But there are always corrector pens, or "precision pens" available, which clean up mistakes you make around your nails. This is anyway a very good alternative to usual nail polish, especially for busy women, who don't have enough time for visiting manicure salons, or for those, who don't like the smell of traditional nail polish. I think, it's a must to try it!