As you know, beauty is in need of victims. But is it worth to undergo rather painful and sometimes very strange procedures, focused on rejuvenation for the sake of beauty and health? Visitors to the beauty salons do not have a unanimous answer to this question. However, such procedures are often quite successful in practical use.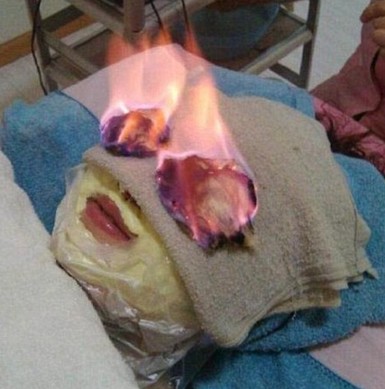 1. Cheek Massage
It is quite a strange procedure, the purpose of which is to make the skin healthier. Facial massage is performed… inside the client's mouth. A trained massage therapist should put the fingers in the mouth of his client and massage the muscles from the inside. It is also necessary to apply pressure in certain zones for stimulating blood circulation.
Such a funny massage technique will make the face look fit and smooth, and the complexion will become healthier. You should know that the procedure is quite painful. Cheek massage is quite popular in the UK, but not too common in Europe and in other parts of the world. You have to understand that this is a matter of time. Some celebrities, including Scarlett Johansson, Angelina Jolie, and Kate Moss, have repeatedly undergone this procedure.
2. Flame Cosmetic Procedures
The beauticians, who offer this kind of a procedure, usually promise the effect of reducing wrinkles. It is expected that the facial skin should become more beautiful and younger. However, you will have to expose your body to fire. In unskilled hands, the session can turn into a very dangerous procedure. But it is also true that fire rejuvenation has become quite popular in China, which has always been famous for its peculiar spa procedures.
The procedure consists in the fact that legs, face and other body parts are covered with a towel, wetted in a particular alcoholic solution. Then the towel… is set on fire for a few seconds. This can reduce fatigue, stimulate and lift the skin to remove wrinkles.
3. Face Slapping & Massage
A lot of Thai cosmetologists practice the technique that helps you get rid of wrinkles, tightens the skin, narrows the pores – without any surgical intervention. For this purpose, face slapping and massage are used in specific parts of the face.
This kind of oriental techniques has become increasingly practiced in the west. In San Francisco, a fifteen-minute procedure of face slapping, carried out by a trained specialist, costs $350.
4. Vampire Technique: Own lood Injections
This pretty brutal spa facial treatment has been used in some beauty salons for a long time. It consists in the fact that the patient's blood is pumped from a specific part of the body, and then this blood is injected into the face. As a result, you can get a young and healthy face. Such a brutal and extremely painful procedure became popular in the United States. There it is perceived as an organic alternative to chemical injections. By the way, Kim Kardashian has already tried it.