The adult toy industry is always expanding and coming out with new ideas, and for women who are either experienced with toys and accessories, or looking into them for the first time, this is a good thing. Those who have made use of sex toys for years can always find something new at popular stores, and those exploring new options will find plenty of variety to choose from. Here are 6 of the best sex toys currently on the market for women, as inspired by the selection of women's toys at Adam and Eve!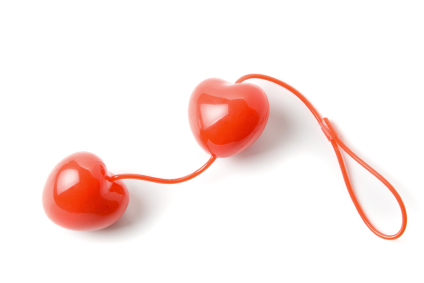 1. The Bunny Kiss
If you're looking for a single toy to work your G-spot and clitoris at the same time, look no further! The Bunny Kiss offers a design for easy G-spot stimulation, as well as tickling "bunny ears" that pleasure your clitoris even as the toy is inserted. With multiple vibration speeds and waterproof material, this toy does it all.
2. Eve's Slim Pink Pleaser Vibrator
It looks like a relatively standard vibrator, but this slim pink pleaser is full of little details that make it unique and especially pleasurable. From its realistic feeling material and design (featuring vein-like ridges and a defined penis head), to its manageable size and waterproof structure, the slim pink pleaser is an ideal vibrating companion. If you need a new go-to toy, this is a great one to consider.
3. X-10 Anal Beads
This toy contains 10 anal beads, with the smallest measuring 0.25 inches in diameter, and the largest at 1 inches. It's a great toy for any woman who either enjoys anal stimulation or is just experimenting, as the different sized beads offer different levels of intensity.
4. Blue Swirl Glass 4-Way "G"
What looks like a standard glass dildo actually has 4 different "sensations" to offer. One one end, a blue rubber head offers fantastic G-spot stimulation, and a bumpy bulb gives to an internal massage that magnifies your climax. Throw in rubber ridges to tease you during insertion and a simpler, more standard head at the other end of the dildo, and you have plenty of options for stimulation.
5. Personal Peasurizer G-Spot Vibrator
Internal and clitoral stimulation combine once again with this vibrator, and what makes it particularly unique is the attached control pack that lets you control and alter vibration while the vibrator is inserted.
6. Inner Goddess Silver Pleasure Balls
Inspired by 50 Shades of Grey (and even endorsed by the author), these pleasure balls are essentially the gold standard of ben wa balls. Set along an 8.5 inch string and weighing a bit over 8 ounces total, these silver balls (1 inch in diameter each) give you a kegel workout and a constant pleasurable sensation all at once! They also feature a sort of ring handle so you can pull them out easily. If you're anything like Anastasia Steele, a few hours with these pleasure balls will have you yearning for sex.