Miley Cyrus's appearance on Sunday at CNN's Heroes 2011 turned out to be especially spectacular breast-wise. Her gorgeous endowments gave rise to speculations about their artificiality, and not just among idle Internet chit-chatters, but among professionals whose suspicions that the star had undergone breast surgery run strong.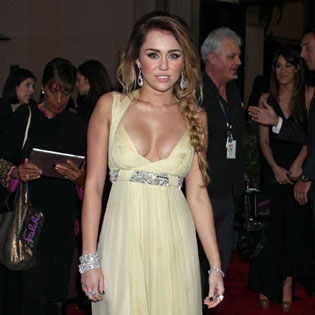 The 19-year-old replied Tuesday via her Tweeter account that she is all natural, making out she regards the implications as a compliment of a sort! It's time people came to realize that not all beautiful is fake, the singer claims.
She was driven into response by plastic surgery experts' comments published by Star magazine. Having watched Cyrus strutting on the red carpet resplendent in a yellow dress by Roberto Cavalli (and accompanied by her boyfriend Liam Hemsworth), they concluded unanimously that her boobs had been enhanced.
Although none of the experts had actually treated the teenage star, they sounded sure enough going by the visual evidence solely. Her breasts looking ample and round made Dr. Tahl Humes, cosmetic physician with Vitahl Medical Aesthetics, Colorado, believe that they had been tampered with surgically. The volume, Dr. Humes suggested to Star, is enough proof of a breast augmentation.
Dr. Brian Glaat, board certified plastic surgeon from New Jersey, is also suspicious of her cleavage, which, in his opinion, is more pronounced than ever. Such an addition couldn't have been caused even by a significant weight gain, it is too noticeable to be achieved without breast implants. His conclusion also runs that Cyrus "does indeed appear to have had a breast augmentation."
Glaat is sure that he can discern the outline of the implants that is "clearly visible in the inner lower portions of her breasts."
Cosmeticare specialist Michael Niccole (Orange County, California) chimes in to assert that the pop star's boobs looked like surgery-enhanced beauties.
Isn't it a bit too much evidence to pit against the singer's word?