L.A. Lakers' Kobe Bryant and his wife Vanessa's divorce history lasts for four years and may end quite soon due to the basketball champ cheating openly on his wife.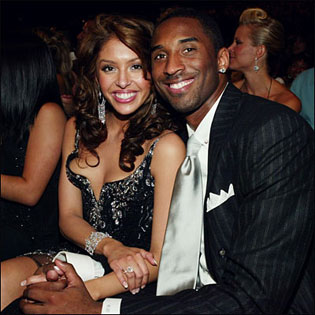 RadarOnline already reported that Vanessa Bryant all but filed for divorce four years ago because she had enough of Kobe's love affairs on the side. She refrained from doing it then, but now she finally came round to doing it and filed on Friday. The Bryants have been married for over 10 years without a pre-nup.
The first time, four years back, the Lakers star's wife was on the verge of calling it a day. As an inside source spilled to RadarOnline, "Kobe has always had a slew of girlfriends, and the cheating was almost blatant." After a consultation with a divorce attorney the situation seemed to have been sorted out with Kobe promising his wife that he would be faithful to her and them going in for marriage counseling. Kobe appeared to have gone straight, and Vanessa decided to forget about divorce, even in the face of a much buzzed-about scandal when the basketball player was accused of sexual assault.
The 33-year-old athlete found himself charged with assaulting a Colorado hotel staff member Katelyn Faber, 19. Bryant owned up to the sexual liaison with the woman but denied having assaulted her. When Faber withheld her testimony at the trial, the prosecutors dropped the case and the controversy was settled via a civil lawsuit. The sum involved in the settlement was not disclosed.
Kobe and Vanessa are parents of two daughters, and she wanted the family to get on for the sake of the children; she believed that her husband would keep his promise. But, the source revealed, last year she started to have doubts about his fidelity anew.
"He knew that if he wasn't faithful, she would leave him," the source said. "Vanessa had no other choice."
Now Vanessa, with her current attorney Laura Wasser, is pressing for divorce.