Justin Guarini, runner-up to Kelly Clarkson in the first season of American Idol and host on Idol Tonight, is a newlywed of three days' standing! Guarini's rep Jeff Ballard informed the PEOPLE magazine of his marriage to Reina Capodici that took place on Saturday evening in his native Doylestown, Penn. It was a private affair for the family and close friends only who gathered at a private estate.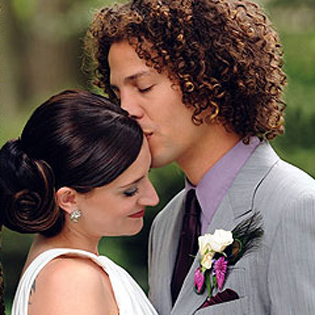 Guarini, 30, first met his would-be wife Reina, 27, at high school. As things went, they didn't hook up then, but the flame came up high when they ran into each other some time later. Their dating led to the engagement last December in the Orlando theme park of Disney's EPCOT Center where Guarini participated in preparing American Idol Experience.
And now it came to the wedding bells! Justin and Reina trusted their hearts for marriage vows that they wrote themselves. A female minister from the Universalist Church arrived to provide Heaven's blessing. Another unforgettable touch was the speech delivered by Guarini's stepdaughter Lola, aged 4.
The Vitamin String Quartet added zest to the occasion playing music by Peter Gabriel, Radiohead, and Paramore.
Guarini's co-host on Idol Tonight, Kimberly Caldwell, was among those delighted at the news. "Justin is one of the most deserving people of happiness and love. I know he will be an amazing hubby."
Will his third CD, on which he is going to work this winter, be made special by his nuptial joys?
Source of the image: people.com.