You've likely known someone who has had their identity stolen. With so many experienced thieves out there, you'd be surprised how easily they perform their tricks. Yet, if you're like most people, you probably have a false sense of security.
Some of our country's most famous celebrities have had their identities stolen. You'd think they'd have enough protection, right? If it can happen to them, it can happen to anyone. Here are just a few celebrities who've been victims to the crime.
1. Tiger Woods
Image via Flickr by TourProGolfClubs
It doesn't matter if the thief looks anything like you. Just ask Tiger Woods who had his identity stolen from Anthony Lemar Taylor back in 1999. After impersonating the famous golfer, Taylor obtained Woods' social security number and his date of birth to get a driver's licence. Looks like the DMV employees didn't watch too much golf.
With his fake licence, Taylor went on to open many credit cards and spend a whopping $17,000 on TVs, stereos, and even a luxury car. He's in prison now and will be there for a very long time.
2. Liv Tyler
Making small talk while at the hairdresser is inevitable, whether you've got the gift of gab or not. You might talk about your family and your job, maybe even your kids. Liv Tyler probably never disclosed her credit card number to her hairdresser, but that didn't stop her from learning it by heart. Former Beverly Hills beautician, Maria Gabriela Perez snatched Tyler's credit card numbers and used them to help herself to $200,000 worth of clothing, jewelry, and expensive services.
As if victimizing Liv Tyler wasn't enough, Perez then went onto deceive Jennifer Aniston and Anne Hathaway too. Needless to say, her time in the Hollywood hair scene is over.
3. Oprah Winfrey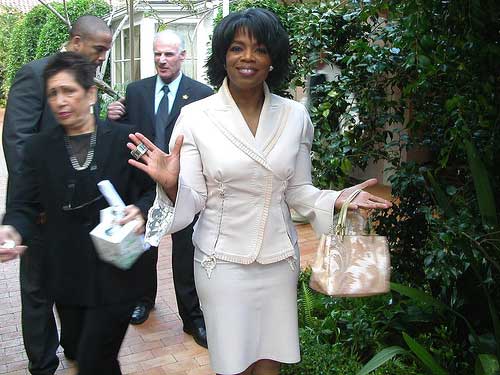 Image via Flickr by Alan Light
As one of the richest women in the world, it's not surprising that Oprah Winfrey fell victim to identity theft. This case is not only very famous, it's rather amusing too. As a teen, Abraham Abdallah was in an anti-fraud video for New York. Oddly enough, he'd later steal the identities of Winfrey, Martha Stewart, and Steven Spielberg.
Targeting Forbes' Richest People in America, Abdallah gained personal details of Oprah's finances with multiple cell phones, public computers, and people imitating couriers. He got all the information he needed from credit protection services to steal her name and her money. If you're starting to feel a little scared, you can learn how to keep tabs on your good name by watching videos by Reputation.com on Vimeo.
4. Paris Hilton
Heiress to the hotel tycoon, it's not shocking that Hilton was targeted by an identity thief. First, a phony website was created in her name back in 2005. She successfully fought the battle by filling a complaint with the World Trade Organization and pressing charges against the at fault parties.
Later, her identity was stolen again for money. An identity theft ring based in Philadelphia used her personal information to manufacture counterfeit checks and apply for credit cards.
A scary crime, identity theft happens every day. From your next store neighbor to your favorite TV show actor, anyone can be a victim. Let these stories remind you just how important it is to keep your identity protected.