Cars make a good gift for birthdays (as hip-hop hero Jay Z can tell you, having received a Bugatti Veyron last year as a 41st anniversary gift from his wife Beyonce). Paris Hilton will agree with that now she is a happy owner of Lexus LFA.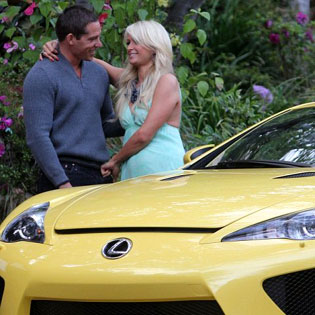 According to TMZ, that's what she received for her 30th birthday from her boyfriend Cy Waits – a bright yellow Lexus LFA. The car is made from a composite of new-technology lightweight materials. The powerful 552bhp engine enables it to speed up to 62mph in less than 4 seconds and whizz along at maximum speed of over 200 mph.
No wonder Hilton's Twitter account shows her overwhelmed with delight, calling Waits "so generous and sweet" for the present that is "most incredible".
Those interested enough will be able to see the socialite's new Lexus featuring on her reality show, The World According to Paris.
Source of the image: Overoll.