The term "modelizer" originated from the Sex and the City about 15 years ago, has caught on, and still seems to be a good way to refer to quite a few couples like the following.
1. Tom Brady
Tom Brady let go of his three-year-long girlfriend actress Bridget Moynahan when she was pregnant to make it with supermodel Gisele Bundchen; he fell for the Brazilian beauty in December 2006. Now it is one of the most illustrious couples, who wed in February 2009 and have had two children, the second child's birth celebrated last December.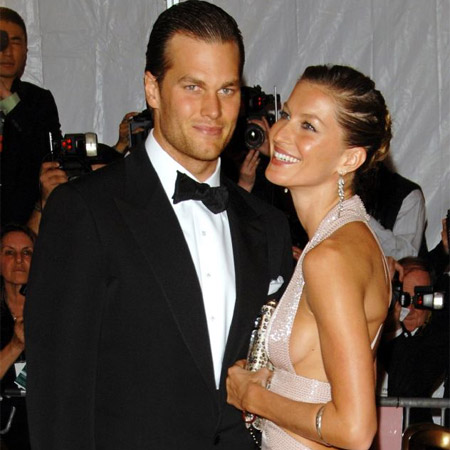 2. Leonardo DiCaprio
Leonardo DiCaprio is the one who definitely has a penchant for models! All through the 2000s he has been dating a string of them, starting with Gisele Bundchen during the first 5 years of the millennium before plunging into a 4-year-long rebound relationship with Bar Refaeli that sizzled out in 2009. After that rumors linked his name with those of Petra Nemcova and Anne V., but he bounced back to Refaeli for 2010-2011. Gossip Girl's Blake Lively was his only divergence from the catwalk, but soon afterwards he hooked up with Erin Heatherton, Victoria's Secret. Will he really suspend his filming activities?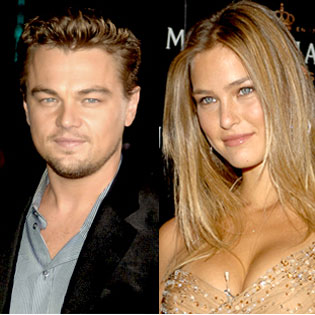 3. Adam Levine
Maroon 5 frontman Adam Levine is another one with a model weakness; the tattooed singer and the main male of The Voice used to date Anne Vyalitsyna and wasn't going to let her go until she announced their split by a press statement last April. It was said Levine was "blindsided" by her decision and turned to heal his wounds to Victoria's Secret's Behati Prinsloo, a friend of Vyalitsina's, if we can rely on rumors. He showed up with her in public last October at the GQ Gentleman's Ball.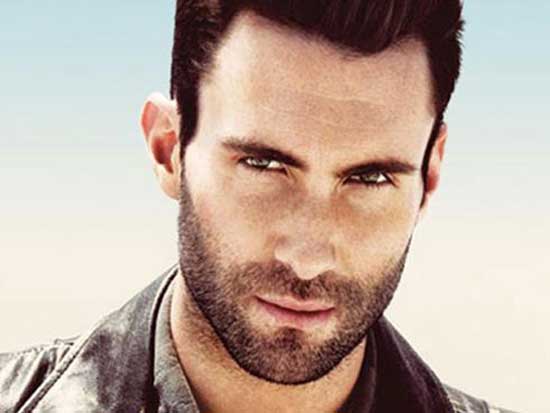 4. Mark Wahlberg
Mark "Marky" Wahlberg is no stranger to modeling himself, and long before he married his model wife, Rhea Durham, in 2009, he had been making much of her since the beginning of the millennium. During this time, influenced by this relationship, he changed his ways and took up acting seriously. Now they can boast four children and a cute reputation for ceaseless PDA. Durham graced the covers of such mags as Vogue and Elle and has two Victoria's Secret Runway struts under her belt.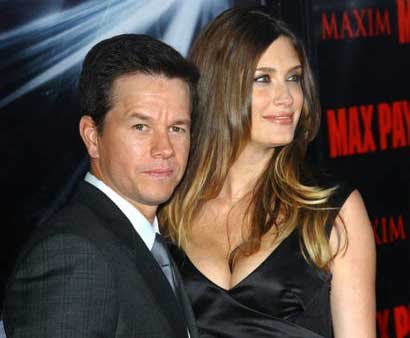 5. Zach Braff
A lot of people were surprised to learn that Scrubs' Zach Braff claimed to belong with the homosexual community, and they were right, it turned out to be a practical joker of a hacker. But there were those who hadn't believed it in the first place, Braff's exes actress Shiri Appleby and pop diva Mandy Moore, and his current love model Taylor Bagley. Braff has been with Bagley, who hails from Nashville and is known for her work with Abercrombie and Fitch, since the fall of 2009; they are living together in Zach's place in NYC.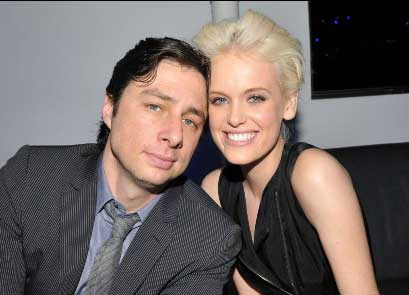 6. Michael Buble
Michael Buble is among those who found happiness with a model, especially after he had parted ways with his three-year-long girlfriend Emily Blunt who turned Mrs. John Krasinski. Buble sang that there would be a woman coming into his life from nowhere, and Argentine model Luisana Lopilato became the one to make his dream true. They met at a party in Buenos Aires in 2008, tied the knot in 2011 and have a child on the way!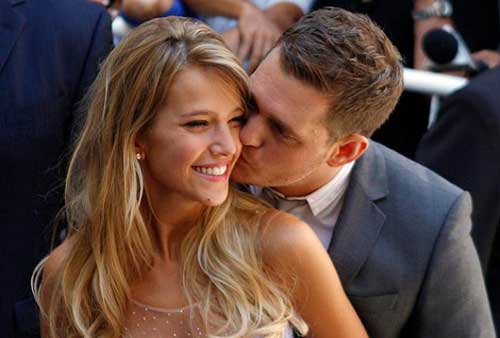 7. Sean Penn
Sean Penn (Gangster Squad) goes for the young and scintillating, and it's only natural that after the breakup with his second wife Robin Wright four years ago he was seen on several occasions to take out the 26-year-old swimsuit model Jessica White. His previous catwalk flame was Petra Nemcova, a Czech model, 23, with whom he had taken up even before his final split with his wife, in 2008, and allegedly picked up where they had left off again in the spring of 2012. Nemcova did swimsuit modeling for the Sports Illustrated cover as well as appeared in numerous editorial campaigns.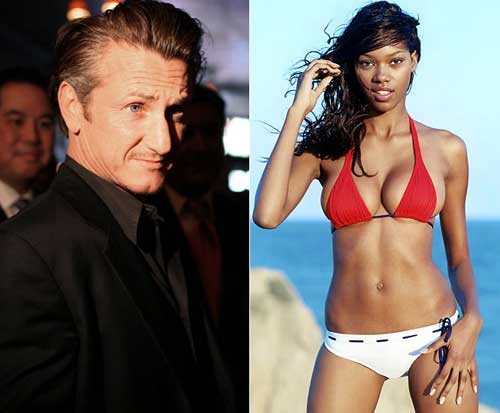 8. Orlando Bloom
Orlando Bloom also decided that models are better than actresses as he parted ways with Kate Bosworth after an almost 5-year-long relationship and stayed single for over a year licking his wounds. But in 2007 he met Victoria's Secret model Miranda Kerr, and ever since it has been a fast-paced affair for The Lord of the Rings star and Kerr, proceeding with an engagement in 2010, a secret marriage and a subsequent birth of son Flynn. Bloom says he enjoys his fatherhood that made a radical change in his life.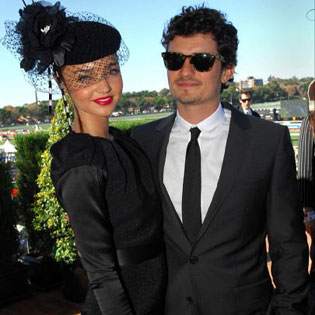 9. George Clooney
George Clooney claimed he had enough of marriage after he and his ex actress Talia Balsam parted ways back in 1993. But he couldn't resist models! It was British model Lisa Snowdon who captured his fancy in 2000, and they went through a rocky relationship that lasted 5 years. Then he enjoyed time together with a tall Italian model Elisabetta Canalis in his Lake Como place, but it came unstuck in the summer of 2011. Now he is taking along another model (and a former wrestler!) Stacy Keibler to his public events.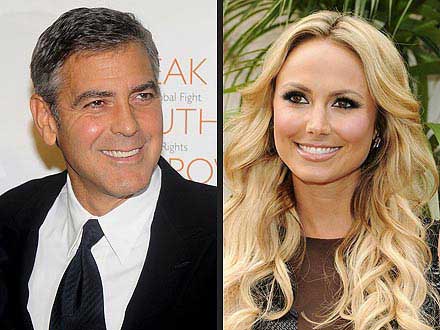 10. Johnny Depp
Kate Moss and Johnny Depp had an affair between 1994 and 1998, and the supermodel still has tender memories about that time, as was revealed in a December 2012 Vanity Fair interview. She said that Depp was the only one who rendered help and care to her when she was a starter without confidence in herself. He proved it in 2005 as the famous Caribbean Pirate stood by Moss when the public was chewing on her rehab stint, saying she was "super sharp," "smart" and has a heart of gold. Depp's next love was Vanessa Paradis, better known as a recording artist, but also a model. Although they never came round to getting married, they had two kids, Jack and Lily-Rose, but sadly parted a year ago after staying together for 14 years!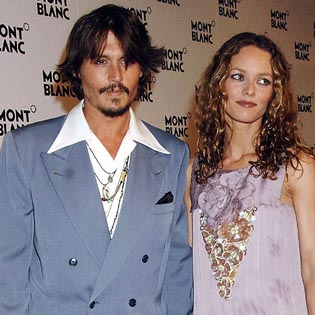 11. Bruce Willis
Bruce Willis is another one to appreciate models after he went unstuck from his wife Demi Moore (married for 13 years before breaking up in October 2000). The beauty trip of the 57-year-old actor began with Rachel Hunter, who graced the covers of Sports Illustrated, but after a year it was over, and Willis got engaged to former model Brooke Burns. Still, he was destined to walk the aisle with yet another model, lingerie girl Emma Hemming, 34, who took him higher. With her he realized that love was the answer, Willis opened up to W Magazine after their wedding in 2009. Last April the Hollywood star and Hemming gave birth to their first child, Mabel Ray.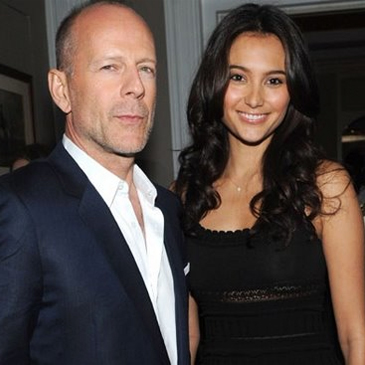 12. Matthew McConaughey
Whatever his roles in the cinema were (most notably in Dazed and Confused, 1993), Matthew McConaughey is the one for steady relationship – with models! Sandra Bullock and Penelope Cruz made a dint in his love life and went on, but a lesser known Brazilian model came and stayed. McConaughey stuck an acquaintance with Camila Alves in a restaurant in Los Angeles in 2006, and never looked back after that. Having enjoyed themselves in Malibu beaches and Europe, they decided they were ripe for children and had Levi in the summer of 2008 and Vida in the spring of 2010, before saying their vows in June 2012. Their third baby, Livingston, joined the family in December 2012, and the saga is going on!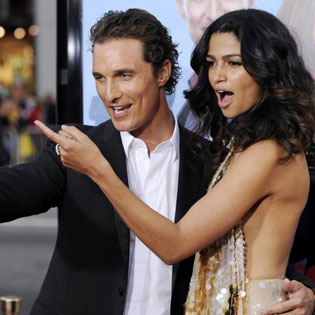 13. Jason Statham
Jason Statham knows about models more than most people, keeping up a seven-year-long relationship with Kelly Brook until she supposedly went astray to have an affair with actor Billy Zane. The action films hero was probably on the lookout for just a good girl after that, but what he found was a Victoria's Secret model, 25-year-old blonde Rosie Huntington-Whiteley. The British beauty came into light in 2008 when she was chosen as the face of Burberry over Agyness Deyn, and since 2010 she and Statham have been enjoying each other's company.
14. Madonna
Yes, there are women modelizers, too. And one of them is Madonna. Right Now her boyfriend is Jesus Luz, but he's not the first male model on her side. Back in the 1990s the Material Girl dated another one, Johnny Zander.