The American named Matt Still has chosen a very unusual way of marriage proposal to his beloved girlfriend, having demonstrated a corresponding video with his participation in the cinema before 2.5 million spectators. Ginny Joiner from Atlanta (USA) was going to see a movie "Fast and the Furious 5" in the cinema together with her brother, while her boyfriend was at work.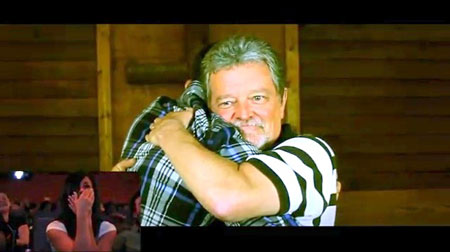 However, after a series of trailers her boyfriend appeared on a giant screen instead of the expected motion picture. As the opening titles began, Ms. Joiner did not suspect anything, she thought that was the film, and the actor just resembled someone to her.
In the first scene the audience saw two men talking, and their faces were hidden from the camera. Gradually, the girl began to realize that she heard the voice of her boyfriend Matt, who … was making a proposal to her. This discovery has shocked her very much. As it turned out, Still had thought of all the minutest details: he had arrived to the cinema earlier and with a wedding ring, had reached an agreement with the audience, and almost all the film fans had reacted to this idea in a very positive way.
This video has already been named "the most outstanding marriage proposal ever made". Shot by Michael Escobar, the video depicts Matt proposing his fiance to marry him, and then shows the congratulations sent by the family and friends. The video has instantly spread in the Internet and became the most popular for viewing, especially among women. This is not surprising, because every girl dreams of being made a proposal in the most unusual way.
Source of the image: Necolebitchie.