Every year we see new trends appearing on the catwalk; this year it's 70s chic and feminine leather styles, but they rarely stick around for long. When a trend appears in fashion designers' collections for more than one season, you know you're onto a winner.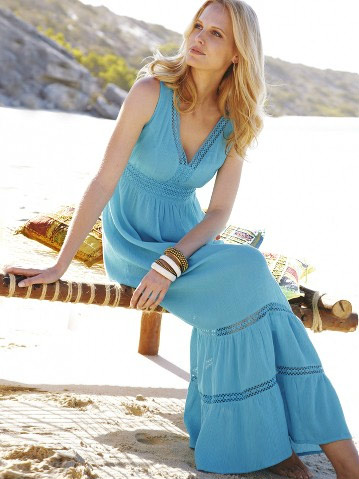 One of the best trends to meet this criteria in the past couple of seasons is the maxi dress. The maxi dress has evolved to change with the seasons and this season it's once again been reincarnated for the summer months.
There are several reasons maxi dresses have stuck around for so long. One of the biggest reasons is that they suit almost anyone, since they come in so many different styles. If you're long and leggy you can opt for a slinky block colour, whereas bright prints are perfect for covering up lumps and bumps. If you're petite opt for a small, delicate print in a fitted style, otherwise the sheer amount of material can overwhelm your small proportions.
If you're busty, you can show off a little cleavage with a halterneck or wrap style dress, whereas those with a bit less oomph on top can get away with feminine strapless styles or a simple shift style.
This season though the maxi dress has been given a summer makeover. Gone are the dark colours and prints of spring, along with the longer style sleeves, and in their place are sheer materials and feminine details like ruffles and lace.
Tiered skirts are all the rage this summer for the maxi, so if you want to make an impression opt for a tiered dress in a pretty pastel colour. If you have the confidence you could also opt for a sultry sheer maxi dress, layer upon layer of chiffon creates the illusion of showing off more than you actually are.
You can never have too many maxi dresses, so if you want to add another one to your wardrobe go with a sheer, light version for summer!