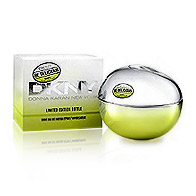 I want to share with you a perfect gift idea for women. Whether you are a woman looking for a present for your best friend or a man who needs a romantic Valentine's Day gift for his girlfriend or wife – DKNY Be Delicious Shine fragrance is what you need. This is my new passion. It was a gift for myself, a very pleasant one. I wear it even when I say at home the whole day, because I love it!
How DKNY Be Delicious Shine Smells
This fragrance is so delicious! It's sweet, joyful, flirty, sexy and at the same time innocent, it entices. It has a unique apple note together with an exotic grapefruit aroma. It gives you a fresh floral feel. It is indeed heavenly. Unfortunately it is a limited edition and I can't imagine, what I will do, when it's not retailed anymore. I even have the crazy idea of buying one more Be Delicious to be able to enjoy it longer.
DKNY Be Delicious Set and Body Lotion
By the way, there is also Be Delicious body lotion, which smells as good and fresh as the parfum spray. It can be purchased both separately and inside a very nice Be Delicious set for women.